From the picturesque mountains to the natural Konkan coastal strip, Maharashtra is a breathtaking sight. It is a paradise for explorers; the state is renowned for its diverse culture and cuisine. It fosters an active lifestyle. The historical sites and the vibrant atmosphere of the state attract visitors to popular destinations. The hustle and bustle of city life can be exhausting, and a break seems necessary. Here are some of the best camping spots in Maharashtra. You can't miss your next nature walk! Some of the basic inclusions in every camping location are tent accommodation, meals, bonfires, music & fun-filled games.
Pawna Lake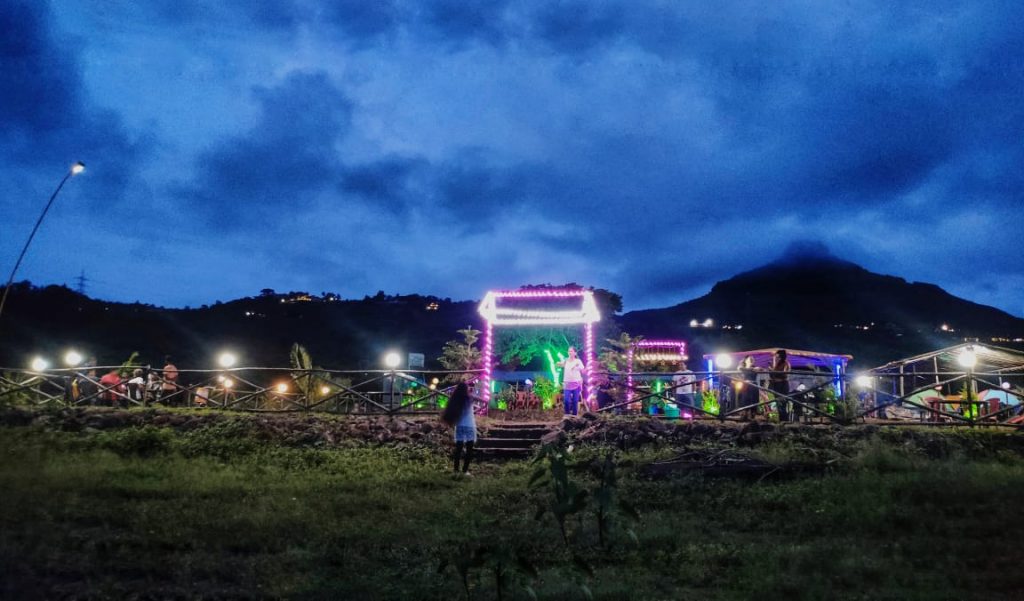 Lake Pawna is the most popular camping site near Pune. The sparkling lake has attracted generations of visitors who come here to camp and have a great weekend. Lake Pawna, located at an ideal distance from Mumbai and Pune, is a great camping spot. You can do a lot here, such as swimming in the lake, BBQs, campfire sitting and games, stargazing, and other Pawna Lake camping activities. The lake gives visitors a sense of peace. The best time for Pawna lake camping is in the rainy season. You can camp by the lake and enjoy activities such as bonfires, stargazing, and cooking.
Price: ₹999 per person
Distance From Mumbai: 117 km
Distance From Pune: 55km
Distance From Nashik: 230km
Resort Options: Pawna Best Resorts
Places To Visit Near Pawna lake
Tikona Fort
Lohagad Fort
Dinosaurs Park
Dudhiware waterfall
Prati pandharpur
Tung fort
Panshet Dam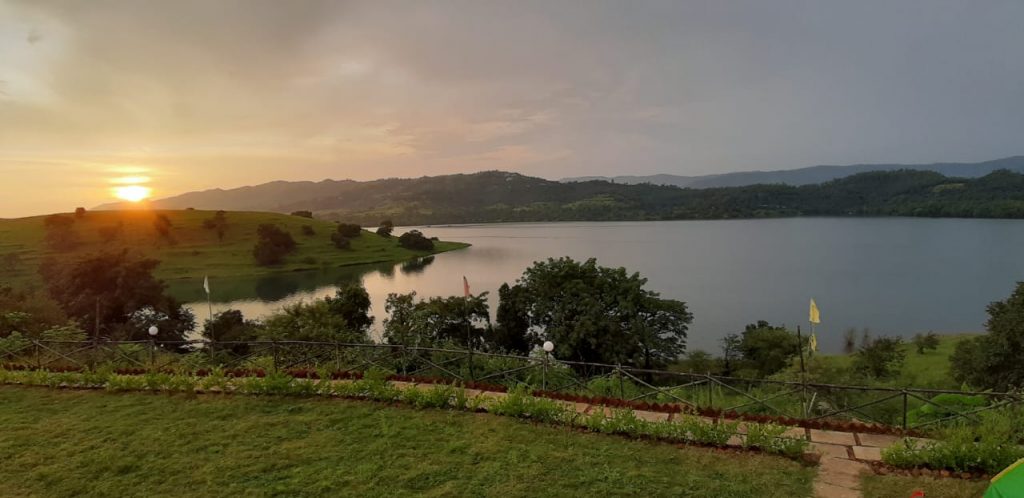 If you want to spend your weekend in a safe, calm, but non-commercial location, Panshet Dam Camping is the best choice. It is away from the chaos of the city. Travel to Panshet is 35 km from Pune, amid the serenity of mountains and nature. Enjoy beautiful sunsets by the water, cosy campfire nights, and relax under the stars! Recharge your batteries with delicious food and dance to great music. You can plan the visit either in monsoon or early winter.
Price: ₹1099 per person
Distance From Mumbai: 184 km
Distance From Pune: 40km
Distance From: Nashik: 257km
Resort Options: Panshet Best Resorts
Places To Visit Near Panshet
Sinhagad Fort
Neelkantheshwar
Torana fort
Lavasa City
Khadakwasla Dam
Igatpuri Water Sports & Camping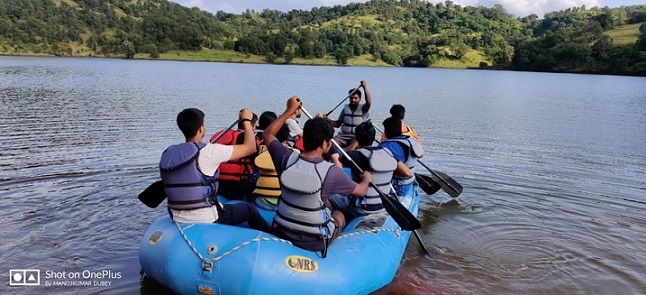 Igatpuri is a good place near Pune and Mumbai for Water sports and camping. Immerse yourself in serenity on the most beautiful hill in the Western Ghats. The hill station is known for its spiritual tranquillity.
There are many camping spots near the lake in Igatpuri; they are perfect for camping and stargazing. Here you can experience a peaceful sunset followed by an evening of stargazing. The best times to visit Igatpuri are during the rainy season (June to September) and winter (November to December). In the rainy season, flowers bloom, and the vast meadows become greener. In winter, Igatpuri is full of joy for those looking for Igatpuri camping and water sports. Places like the Myanmar Gate and Kanifnath Temple are proof of the sacredness of the hill stations. Camping sites set you to gaze at the stars at night.
Price: ₹1399 per person
Distance From Mumbai: 122km
Distance From Pune: 248km
Distance From Nashik: 46km
Resort Options: Igatpuri Best Resorts
Places To Visit Near Igatpuri:
Kalsubai Peak
Ghatandevi Temple
Sandhan Valley
Kasara Ghat
Myanmar Gate
Amruteshwar Temple
Alibaug Beach Camping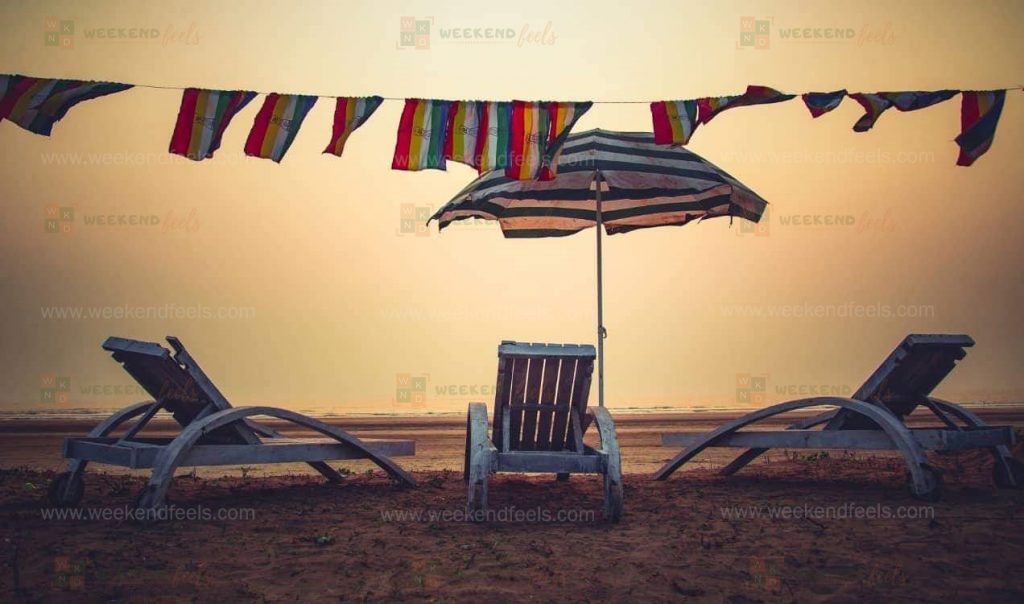 Alibaug is a popular beach camping spot in Maharashtra. It is a coastal town in the Konkan region of Maharashtra. The city is endowed with many beaches that attract a large number of visitors. The beaches in Alibaug are known for their crystal clear waters and fishing.
The sound of the crashing waves will make you fall in love. You can hike in the dense forests nearby to enjoy moments to be one with nature. Sitting on the beach with loved ones is everyone's dream. November to March is the ideal period to visit Alibaug to enjoy the beaches as the weather is dry and cold. You can spend an unforgettable evening on the beach with cool breezes, bonfires, and barbecues. Alibaug Beach Camping offers many activities for visitors.
Price: ₹1199 per person
Distance From Mumbai: 95 km
Distance From Pune: 141km
Distance From Nashik: 231 km
Resort Options: Alibaug Best Resorts
Places To Visit Near Alibaug:
Kulaba fort
Murud Janjira Fort
Nagaon Beach
Kankeshwar Temple
Kashid Beach
Underi Fort
Khanderi Island
Bhandardara Lake Camping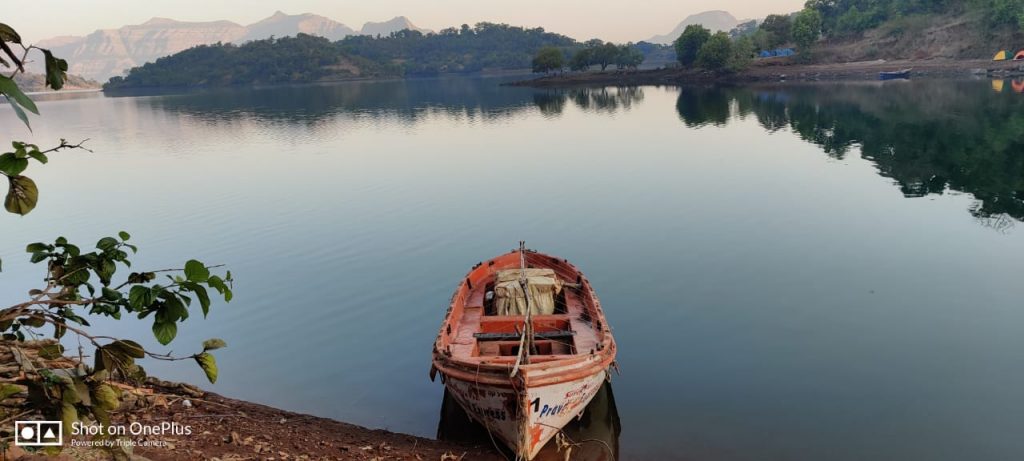 Bhandardara Lake camping is one of the most popular spots near Ahmednagar. Bhandardara often hosts campers and tourists. You can bring your tent and go to the stargazing campsite. You will have a great time in the peaceful atmosphere of Bhandardara. Bhandardara is a picturesque lake with rich and beautiful natural resources. Lush greenery, stunning waterfalls, and towering mountains make it the perfect Lake camping spot in Maharashtra for you. You can escape the chaos of the city; you will have a great weekend here! Its vegetation is a popular destination for tourists. The months June to March are ideal times to visit Bhandardara. Showers during these months create breathtaking landscapes worth enjoying.
The peculiarity of this place is that millions of fireflies gather here. At night, everything shines and gives the place a beautiful look.
Price: ₹1199 per person
Distance From Mumbai: 162 km
Distance From Pune: 166km
Distance From Nashik: 69km
Resort Options: Bhandardara Best Resorts
Places To Visit Near Bhandardara:
Umbrella falls
Wilson Dam
Kalsubai Peak
Arthur Lake
Randha Falls
Agastya Rishi Ashram
Matheran Forest Camping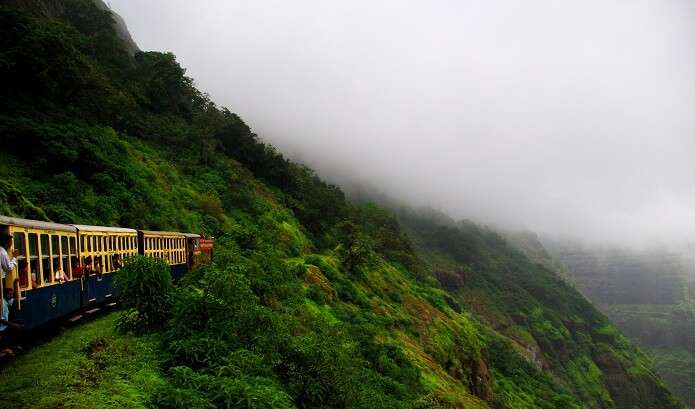 Breathe in the beauty of Western Ghats. Matheran is a beautiful hill station near Mumbai in Raigad District that receives tourists not in their cars, but on the Neral by train. The Western Ghats, The dense Matheran forests that surround the area are shaping the camping choices of travellers. It gives you a wildlife feel and an unforgettable experience. Panorama Point at this location offers a 360-degree view of the surrounding landscape and the beautiful city of Neral. Matheran forest treks are also held here. Here you can also go climbing and mountaineering.
If you have some free time, take a trip to Matheran's main attractions, such as Cape One Tree Hill, Lake Charlotte, Cape Louise, and Pisarnath Temple.
Matheran looks like a playground in nature; it offers panoramic views of the Western Ghats. With lush greenery, small hills, and waterfalls; this is one of the best places to visit in Maharashtra. Vehicles are prohibited from entering this area to maintain their serenity. There used to be a toy train from Neral to Matheran. Although Matheran enjoys a pleasant climate all year round, the best time to visit is between October and May. Here are the seasonal breaks of the year so you can plan your trip. The cool weather is best for sightseeing.
Distance From Mumbai: 83 km
Distance From Pune:120km
Distance From: Nashik: 167km
Places To Visit Near Matheran:
Charlotte lake
Irshalgad Fort
Prabal Fort
Ambarnath Temple
Devkund Waterfall Camping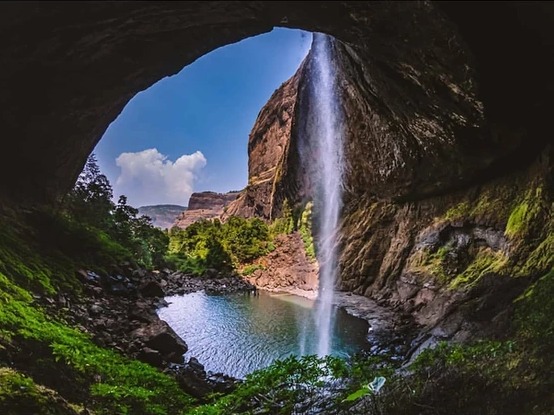 Devkund waterfalls camping is located near the picturesque town of Bhira near Pune; it is attracted by the fact that it is still relatively unexplored and natural. You can camp at Bhira for the night before continuing your journey to Devkund. Take a walk around the dam and see the beauty of the sunset while camping in the village. Light bonfires and kebabs, as well as spend time in the night camp dancing. There are also many opportunities to observe the lifestyle, culture, and traditions of the local people of Bhira. Start this exciting hike early in the morning to see the falls at their best. The starting point of the Kundalika River will make you fall in love with its natural beauty. It will be interesting too. You can snap photos with Devkund's background or spend time contemplating the unspoiled beauty of nature before descending the mountain and returning home. Late September and October – April are the best times to visit Devkund Waterfall camping, as these are the months just after the rainy season and are very pleasant. The rainy season in the Western Ghats is very chaotic.
Price: ₹1299 per person
Distance From Mumbai: 125km
Distance From Pune: 99km
Distance From: Nashik: 268km
Places To Visit Near Devkund:
Tamhini Ghat
Kundalika Rafting
Mulshi Dam
Shri Ballaleshwar Temple
Malshej Ghat Camping
Rainy Malshej Ghat camping is another green place near Mumbai. Malshaj Ghat sits in the lap of the Western Ghats and boasts a wide variety of flora and fauna. Drizzling rain and fog paint a beautiful landscape. A light breeze soothes restless souls. At the point when you show up at Malshej Ghat, you will be welcomed by flamingos, cuckoos, and numerous other beautiful birds.
If you are looking for the perfect campsite in Maharashtra, this will be your best choice. October to March is the best time to visit Malsheighat to enjoy dams, forts, and sightseeing. However, the rainy season is very beautiful here, and you can enjoy natural waterfalls.
Highlights include a nature trail, bird watching, climbing the fort on Ajoba Hill, and hiking the famous Harishchandragad Fort.
Gentle drizzle and fog will immerse you in the colours of nature; you will get an unforgettable experience for a lifetime. The steep hills surrounding this place offer great views. You must go to Malshej Ghat camping in the rainy season for the most surreal camping experience.
Price: ₹1299 per person
Distance From Mumbai: 126 km
Distance From Pune:120km
Distance From: Nashik: 133km
Resort Options: Malshej Ghat Best Resorts
Places To Visit Near Malshej:
Pimpalgaon Joga Dam
Harishchandragad Fort
Ajoba Hill Fort
Konkan Kada
Lonavala
Karjat Camping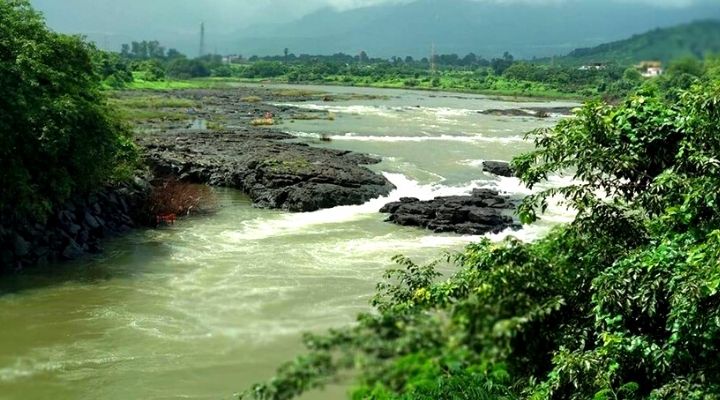 Karjat is situated in a picturesque location in Raigad District, next to Lake Karjat, the camp is one of the best options for a perfect holiday. The serenity of the lake with its crystal clear water and mountain views is a wealth of Karjat. Green beauty here will help you find peace and tranquillity. Karjat Lakeside Camping has some attractive indoor and outdoor games. You can enjoy fishing in the lake. The site also allows you to enjoy hiking. Enjoy a bonfire, where to sit and share your stories. The monsoon season is the best and ideal opportunity to go to Karjat.
Distance From Mumbai: 63km
Distance From Pune: 100km
Distance From Nashik: 171km
Places To Visit Near Karjat:
Kondana Caves
Kothaligad (Peth) Fort
Jain Temple
Lake Uksan
Budha Karlu Cave
Kondeshwar temple
Bahiri Cave
Malavandi Lake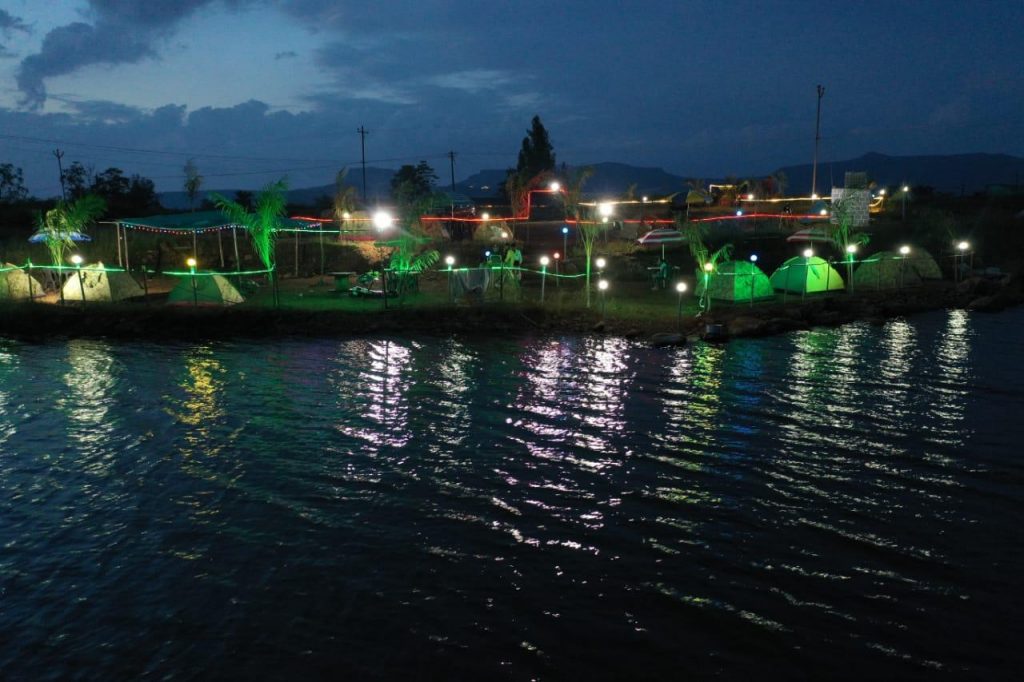 Malavandi Lake near Pawna Dam in Lonavala offers a canoeing experience. Camping in Malavandi includes- spending the night in a tent, in the forest, on the beach, on the top of a mountain, or near a lake. If you like to be drenched in the rain, the monsoon is the best season to travel to Malavandi Lake. The sun rarely shows up, and the clouds always keep floating into the sky. The beautiful white sheet of fog spreads on the Lake water. There is something special about campfire cooking combined with home or hotel cooking. Plus, nothing beats hot noodles, popcorn, or grilled meats over an open fire. While camping, you will have the opportunity to get to know nature, get acquainted with wildlife, and admire the distant stars under the bright lights of the big city. On a hike, as you explore nature, your lonely morning is the sun and the chirping of birds. Waking up at dawn and not having an alarm is something you probably want to experience at least once in your life. We are confident that you are looking for a campsite to restore your tired soul. Whether you are looking for beach, lakeside, or adventure camping, Treks and Trails the place has something for everyone.
Price: ₹1299 per person
Distance From Mumbai: 117 km
Distance From Pune: 54km
Distance From: Nashik: 230km
Places To Visit Near Malavandi Lake:
Rajmachi Fort
Aamby Valley
Lonavala Lake
Duke's Nose
Karla Caves
Imagica Adlabs
Bhaja Caves
Mahabaleshwar Camping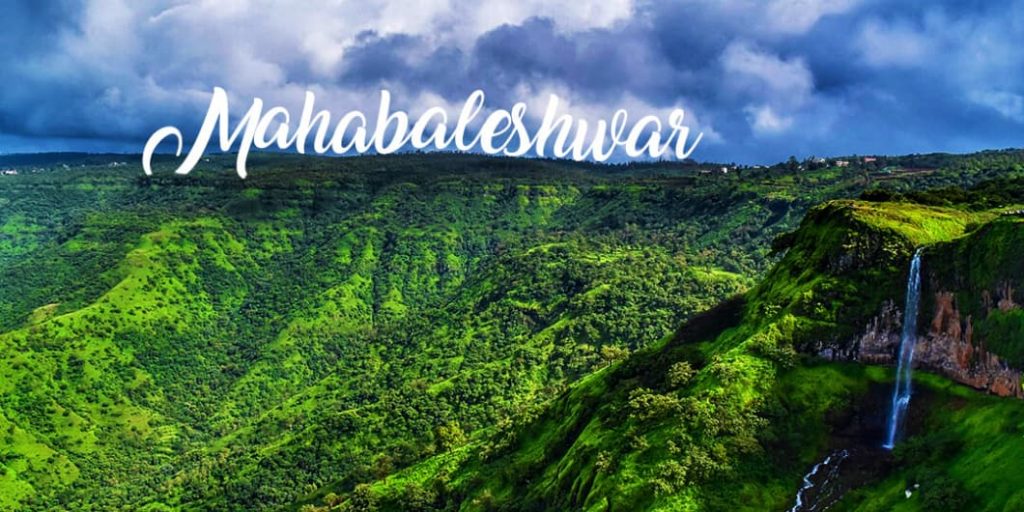 Mahabaleshwar is a beautiful hill station located in the Satara district in Maharashtra. Camping at Mahabaleshwar, located right along the Western Ghats of India, is very popular with tourists and visitors. Here are historical sites, rivers, and more. Locations such as Elephant's Head Point, Dobie Falls, Arthur's Seat, Wilson Point, Lake Venna are some of the popular camping spots in Mahabaleshwar. This activity is even more popular due to its proximity to unspoiled nature. Whether you're looking for a quiet and relaxing getaway or an adventure getaway where you can explore and hike, Mahabaleshwar is the right place. Winter is from December to February and it is the best season to visit Mahabaleshwar. There is something for everyone: fun activities like games, bonfires, forest tours and hikes, swimming, and more. They are also an integral part of your trek while you are in Mahabaleshwar.
Distance From Mumbai: 264km
Distance From Pune:120km
Distance From Nashik: 337km
Resort Options: Mahabaleshwar Best Resorts
Places To Visit Near Mahabaleshwar:
Panchgani
Pratapgad Fort
Dholya Ganpati Wai
Tapola
Table Land
Sangam Mahuli
Menawali