For a stay close to nature, the resorts in Igatpuri offer an excellent combination. It is with first-class services. Hospitality is paramount. These resorts ensure your stay in the city is memorable and comfortable. One of the best things about these resorts is they can offer the guest a wide variety of amenities. Igatpuri gives serene surroundings and a peaceful stay. Fun and excitement are the specialties of Igatpuri Resorts.
With a wide variety of amenities, Igatpuri Resorts is the best choice for all types of tours. Fast internet for business and corporate facilities are available here. Igatpuri is a perfect destination to refresh yourself.
Igatpuri resorts offer all kinds of luxury. You will receive first-class service in these resorts. After a hectic, routine schedule, you need to relax. It is a dreamland for visitors who are looking for some fresh air at the outing.
If you are open to explore other places as well, that's great because there are 11 Camping Options Near Mumbai and Pune.
Mystic Valley Spa Resort
This resort is located in incredible scenery; the beautiful dense forests is surrounding the resort. They build the resort horizontally. The breathtaking resort gets more glamor and uniqueness due to its structure.
The resort is in the lap of the great Sahyadri mountain range; it is the best of all. The resort gives you an untouched view of the entire land.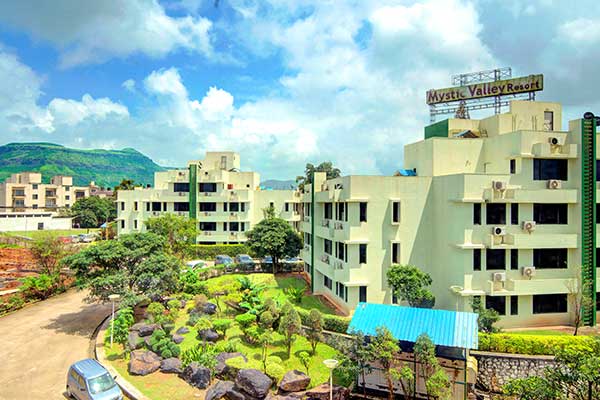 It gives first-class facilities and warm Indian hospitality. This beautiful resort takes you in the views of the Camel Valley.
The location of the property is exclusive. It offers an unobstructed view of the tropical forests and valleys. Make some of the best memories with friends and family when you are here!
Amenities: Spa, Indoor games, swimming pool, children's playground, conference rooms, garden
Address: 284 A / B, Mumbai Agra Road, Taluka, Talegaon, Igatpuri, Maharashtra 422403
Price: From Rs. 5805
Click here for Mystic Valley Spa Resort Official Website

Dew Drops Boutique Resort
The Dew Drops Boutique Resort is the best stay for a weekend trip. A unique destination if you are looking for a break from everyday life.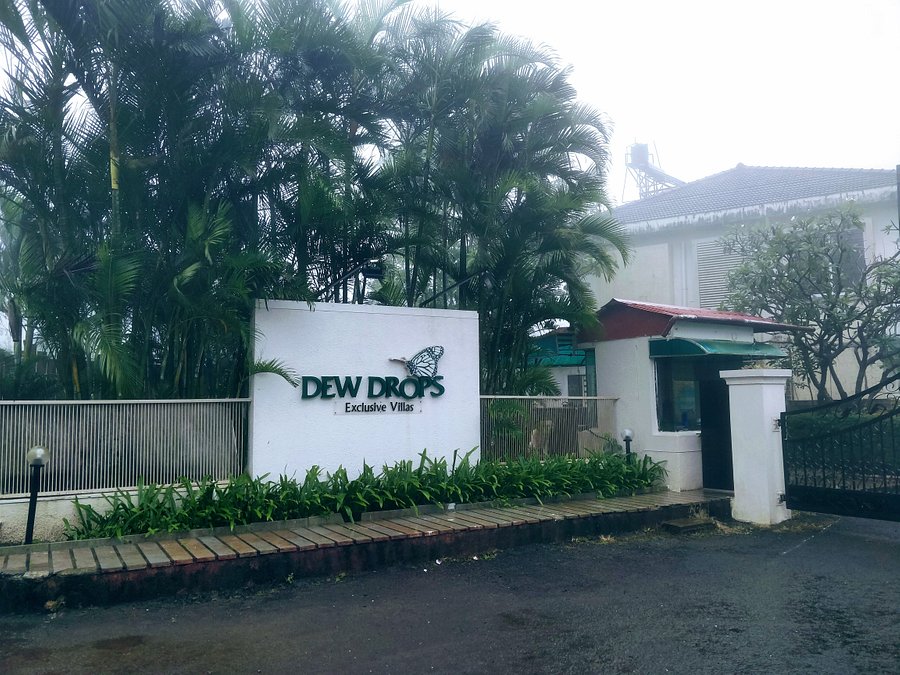 Inspiring Sahyadri mountain ranges provide a perfect backdrop for the property. A comfortable climate and incredible nature offer the best environment. Enjoy impeccable beauty and the picturesque weather in this Igatpuri resort.
Services: golf, board games, open grass for activities, conference facilities, zip line fox climbing, abseiling, karaoke, air hockey, swimming pool, indoor games, outdoor games.
Address: Plot No. 105, Titoli Village, Old Agra Road, Igatpuri, Nashik 422403
Price: From Rs 6000
Click here for Dew Drops Boutiqe Official Website
Natures Dreamland Holiday Resort
It is one of the most popular Igatpuri resorts. The Nature's Dreamland Holiday complex is surrounded by nature and greenery. It features 12 beautiful Swiss cottages. It is in the middle of a mango orchard in a calm and peaceful setting.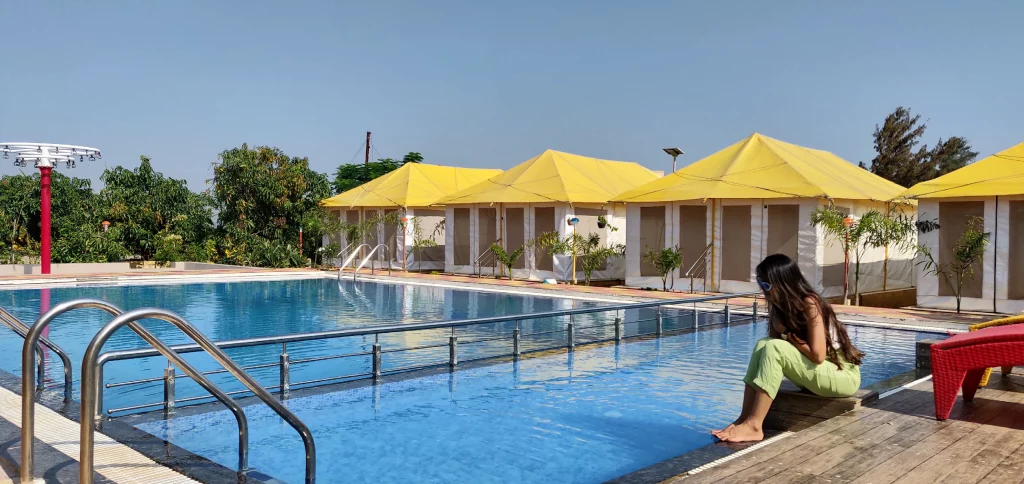 The cabins are equipped with the best modern amenities for a comfortable stay. It is a perfect place to spend a rustic and luxury vacation.
Services: swimming pool, multicultural restaurant with room service, candlelight dinner, rain dance, multilingual staff, free WiFi, laundry service, non-smoking rooms, and children's area
Address: Plot 538, Malunje Road Mango Far, Malunje, 422403, Maharashtra
Price: from Rs 2700
Click here for Natures Dreamland Holiday Resort Official Website
The Herb Farm Resort
The Herb Farm Resort is one of the smallest resorts in Igatpuri. It offers unique hospitality. This resort locates near the extremely picturesque lake of the Darna River, Mundhegaon. This village is surrounded by forests.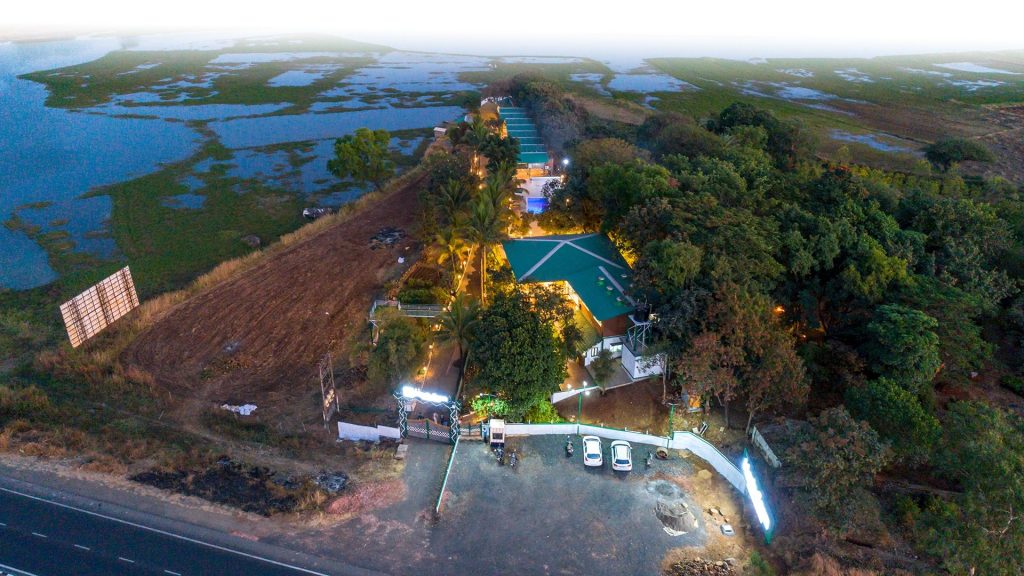 It's a small 8-room resort, so it's free from the confines of a larger resort. The natural beauty of the resort will soothe the soul of any traveler. The resort offers vegetarian food and prides itself on providing jobs to locals.
Facilities: Swimming pool, non-smoking rooms, free WiFi, an astronomy platform for observing the sky, and facilities for outdoor activities such as cycling, cricket, archery, and soccer.
Address: Gate No. 173, Mundhegaon, Mumbai Nashik Expressway, Igatpuri 422403
Price: From Rs 4500
Click here for Herb Farm Resort Official Website
Manas Lifestyle Resort
Manas Lifestyle Resort is a 36 room boutique motel. It is topped on the picturesque Camel Valley; in the stunning hamlet of Igatpuri. It is spread throughout a place of around eight acres. This beautiful motel in Igatpuri is embraced in the terrific Kasara Ghats of the Sahyadri Ranges. Tranquil-untouched wild splendor surrounds it. From this location, you will get tranquil perspectives of nature. Beautiful grand hills seem like they defend this motel from all sides. It enthralls in the glory of small rivulets. Delight in the pristine splendor of Igatpuri accommodations!
Amenities: Fitness center, spa, indoor games, swimming pool, kids play area, convention halls, garden.
Address: 286-A, Talegaon, Taluka-Igatpuri, Nashik, Maharashtra 422403
Price: Starts from Rs 4998
Click here for Manas Lifestyle Resort Official Website
Savana Resorts
Just the name is enough. Savana in Hindi means endless greenery after monsoons. A perfect weekend getaway. It is one Igatpuri resort that presents you with the enjoyment of a green vacation. Get in the direction of the calm and serene environs with a snug life proper here! It is with picturesque Sahyadri in the background and glittering Waldevi River on the alternative end. This motel has a picturesque and different setting. Enjoy a cool breeze even as enjoyable in the cute garden. Satisfaction in boating is worth reminding.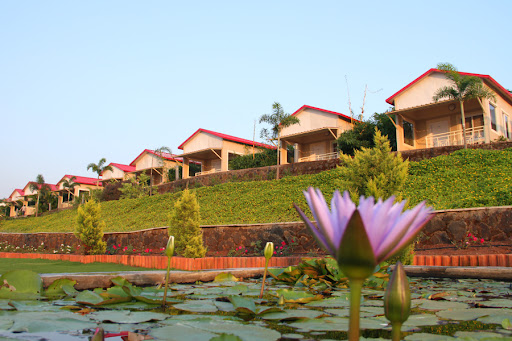 Amenities: Barbeque, garden, mango plantations, kids play area, fishing, boating, bullock cart ride, indoor games, outdoor games
Address: Survey No. 153, At. Post-Dahegaon, Waldevi Dam Backwaters, Mumbai-Nasik Highway, Nashik 422001
Price: Starts from Rs 7280
Click here for Savana Resorts Official Website
Vivaant Retreat Resort
The Vivant Retreat Resort is a cute vicinity to live in the fantastic woodland of Igatpuri. Luxurious dwelling reaches new peaks at Vivaant Retreat and conventions. It's a traditional fusion of herbal wonders and present-day houses. The lush inexperienced woodlands, natural blue skies, steep range, and dancing rivulets are intricately woven with luxury.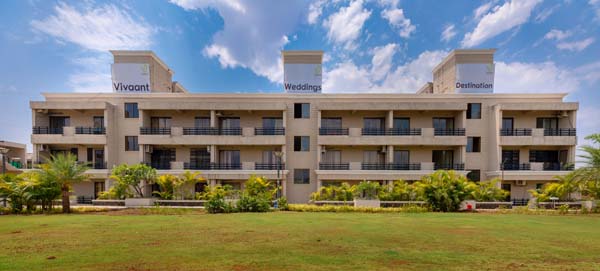 Amenities: Wifi, Indoor & Outdoor Games, free parking, Swimming Pool, Kid's play area
Address: Village Talegaon
Price: Starts from Rs 3000
Click here for Vivaant Retreat Resort Official Website
Bodh Valley Resort
Bodh Valley Resort, located in Igatpuri, offers the ideal escape for those seeking relaxation and rejuvenation amidst the serene beauty of nature. The resort takes you away from the hustle and bustle of city life, offering a peaceful environment for introspection. Snuggled between the mountains, Bodh valley is a place to rediscover yourself. The resort offers a memorable experience of hospitality and tranquillity. It is a popular destination for luxury vacationers. Guests can expect to immerse themselves in the pristine valleys and mountains of Igatpuri.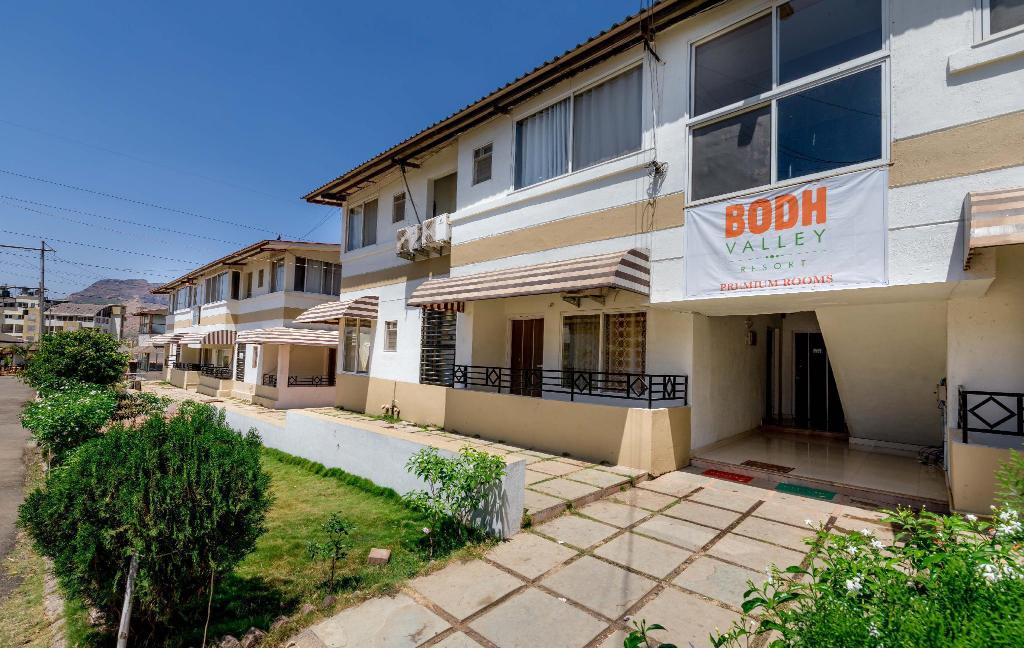 Check out what this resort has stored for you.
Swimming pool
Indoor and Outdoor games
Trekking
Multicuisine Restaurant
Fun Filled activities
Banquet for events
If you love singing, they have karaoke too. So wake up the singer inside you and set up the mood of your loved ones
Address: Igatpuri, Next to Rainforest Resort, Maharashtra 422402
Contact details: 08830061624
Booking Cost: They offer various room types, including tents, villas, group villas, and chalets. The cost of rooms ranges from INR 3 to 4k; on the other hand, cottages range from INR 4k to 6k. The villas will cost you around INR 10k.
Click here for Bodh Valley Resort Official Website
Bliss Resort
As the name states, it is a place of happiness, a beautiful and serene getaway in Igatpuri amidst the hill station known for its pleasant weather and scenic beauty. Not only is it aesthetic and welcoming, but it has been carefully crafted to capture your attention and create a nurturing atmosphere through vibrations. You will be more than glad to witness the property's beauty on your holiday, and needless to say, it will turn out to be worth it! For accommodations, the resort offers glamping tents, courtyard villas, and farm-side villas.
Are you excited to know more features and amenities of this resort? Here they are
Indoor and Outdoor games
Kids playground
Banquet for weddings
Arrange and set up birthdays, farewells, and anniversaries.
In house Musician
Bonfire
Mountain camping
Want to have delicious food while having a breathtaking view of the mountains? What are you waiting for? Go for "The Bliss"!
Address: Bhavali Dam, Road, Bhagatwadi, Igatpuri, Maharashtra 422403
Contact details: 07030666222
Booking Cost: For booking information, you can call them at the above-given number or can visit their website.
Click here for Bliss Resort Official Website
JenJon Lake Resort
JenJon Lake Vaitarna Resort can be found amidst the picturesque setting of Igatpuri. This hill station is surrounded by rugged hills and dense forests, making it a paradise for nature lovers. The resort is spread over 3 acres and provides guests with panoramic 180-degree views of the Vaitarna Dam's backwaters. They have a unique concept for accommodations
Skydeck Machan: It's a 3-story building with one glass room on each floor with a 360-degree view balcony. It is the main attraction for tourists.
Swiss Chalet: It comprises a two-story building and is made up of Canadian pinewood. It also offers large french windows with a view of the swimming pool and vaitarna lake.
Rest they have cottages, lakeside villas, and camping.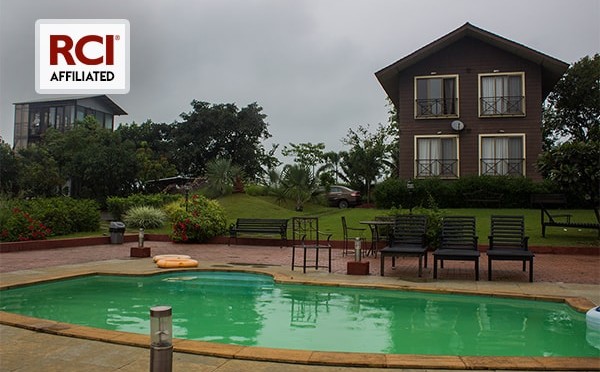 Some of the other amenities are:
Quad bike rides
Barbeque
campfire
Archery
Swings and hammocks
Trekking
Swimming pool
Boating
Rowing
Fishing
Multicuisine restaurant
They have a separate kitchen for preparing vegetarian and Jain food. Impressed, right? So now you can take your elders who are particular regarding their food
Address: Near Lake Vaitarna, Igatpuri, Zarwad Bk, Maharashtra 422212
Contact details: 080806 45646
Booking Cost: For booking information, you can call them at the above-given number or can visit their website.
Click here for JenJon Lake Resort Official Website
Things To Do In Igatpuri
There are many things to do in Igatpuri. Those serve as a great place for a weekend trip. The tourist attractions of Igatpuri are suitable for all types of travelers. It offers a great escape from the chaos of everyday city life.
A haven for nature lovers, the city also features many ancient forts. The pristine waterfalls and various adventure activities add to the treat. It is including rock climbing, trekking, camping, and more. One of the best tourist attractions in Igatpuri is the Bhatsa River Valley. It is an excellent place to take photos.
One of the famous places here is the Vipassana Center. The presence of several forests and campsites also makes Igatpuri a must-see in the state. Campsites are the special thing here. Some hidden campsites are worth staying in the vicinity of nature. It folds up during the monsoons when its dense forest turns green, and the waterfalls come alive. Igatpuri attracts nature lovers and hikers. With many fortresses in the surrounding region, it is a hiking paradise.