Malshej Ghat is home to forests, beautiful nature, waterfalls, and countless species of flora and fauna! Located in the Thane district, on the Kalyan-Ahmednagar Road, this mountain pass in the western ranges is a monsoon sensation in Maharashtra. Adorned with an abundance of natural beauty, and fantastic climatic conditions, Malshej Ghat is one of the most visited picnic spots. The zone displays its versatile elegance across the year with pleasant weather and picturesque ambience. If you are someone looking for a weekend getaway near Pune, this blog space will guide you in the right-most way. Malshej is graced with gorgeous and relaxing resorts to make your holiday memorable. Here, we shall help you find the best resort in Malshej with respect to its location, features, amenities, stay packages and food options.
Distance from Important cities in Maharashtra
From Mumbai- 130 km
From Pune- 120 km
From Nashik- 135 km
You can get to Malshej Ghat by bus, train or car depending on what suits you the best. If you are travelling from Pune, self-driving or hiring a cab could be the best travel option. But, if you are travelling from Mumbai to Malshej ghat, you may also consider taking a train from Mumbai to Kalyan, to be followed by an MSRTC bus to reach Malshej.
Overall, travelling by private car toward Malshej is a great pick, irrespective of the starting point. The roads are in a good state, well-maintained and safe for driving. However, in some spots, the roads tend to get narrower with less to no safety. It is hence recommended to drive safely.
Enjoy a fascinating ride from your city to Malshej and land at the best Mashej resorts for a great weekend with your family and friends.
If you are open to exploring other places as well, that's great because there are 11 Camping Options Near Mumbai and Pune.
MTDC Resort
Hotel Class and Ratings: 3 Star; 4.1/5 Google Reviews
Placed between the mountain ranges of western ghats, rivers, and rich vegetation, this MTDC property is blessed with an outstanding landscape. Waking up to the chirps of birds, and falling asleep to the murmuring winds around you is such an experience! The resort is spread across a grand span of land and has beautiful lawns and gardens. A stay at MTDC resort is meant to be filled with joy, calmness and fulfilling happiness for your soul, mind and body. The resort offers a variety of rooms with comfortable stays. Get ready to view the beauty of Malshej and the grandness of Harsihchandragad right from the balcony of your room! MTDC is a modest and affordable resort in Malshej Ghat, that offers all the necessary amenities and resources to make your stay comforting. The resort offers the following amenities:
Tasty food
Outdoor play area
Gardens and walking tracks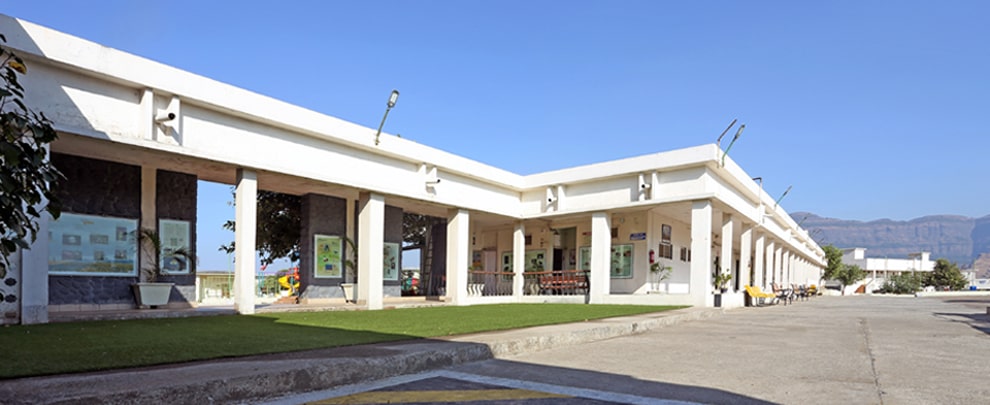 The resort has several viewing points inside of its property to view the amazing landscape and also the fort of Harsihchandragad
Address: Malshej Ghat post – Khubi, Tal – Junnar, Dist, Thitabi Tarf Vaishakhare, Maharashtra 421201
Contact for Booking and Enquiry: 9373808151/ 8080365186/ 776803633
Booking Cost: The resort offers deluxe and super deluxe rooms starting from INR 2700/- per night for 2 people occupancy. The cottage stays and valley view rooms start at INR 4000/- per night. For all room types, AC and non-AC options are available. The booking prices may vary depending on the season of booking.
Click here for MDTC Resort Official Website
Saj By the Lake
Hotel Class and Ratings: 4 Star; 4.2/5 Google Reviews
This is one of the most famous Malshej Ghat resorts. Known for its beautiful natural setting and serene ambience, Saj by the Lake is indeed astonishing for a weekend getaway. Most tourists quote that the Malshej ghat weather is best experienced at this resort property. The whole resort set is placed amidst the beauty of a lake, forest and mountains making it one of the best places to visit in Malshej Ghat. If you are looking for a wonderful place where you can soak yourself in the embrace of nature, Saj Resort Malshej is so for you! The resort offers high-quality stays and has varied amenities as follows:
Indoor games zone
Outdoor play area
Trekking assistance
Maati-Baani restaurant
Swimming pool
Children play area
Gardens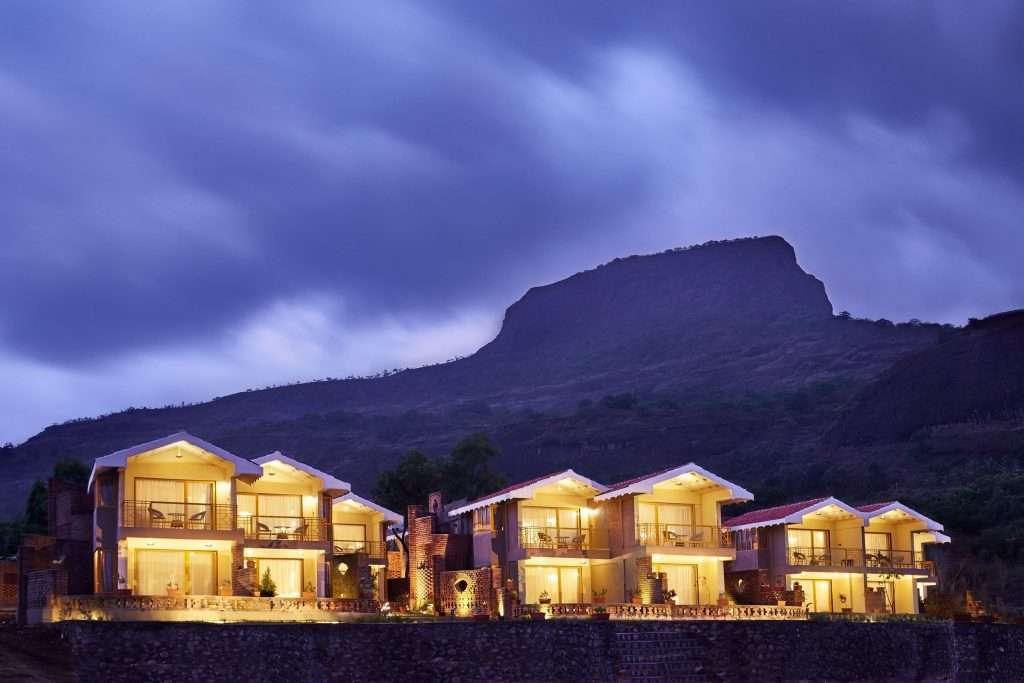 The resort also has a facility to offer bicycles for riding through the beauty of Malshej. You can have a fun ride with your loved ones as you gaze at the abundant nature around you
Address: Ahmednagar-Kalyan Rd, Near Khubi Phata MALSHEJ, Maharashtra 412409
Contact for Booking and Enquiry: 096641 51190
Booking Cost: The resort offers different rooms including rooms with Courtyard views, Brick Village stays, Brick Village Premium stays, and Premium Suites. The packages start from INR 4000/- per night and range up to INR 10,000/- per night depending on room type. The prices vary depending on the time of booking and season. You can make your bookings on Make My Trip well in advance.
Click here for Saj By The Lake Official Website
Malshej Agro Tourism
Hotel Class and Ratings: 4 Star; 4.3/5 Google Reviews
If you are looking forward to having a break from your routine, to relax and enjoy, Malshej Agro Tourism Resort is for you. Meant to help you vibe with nature and rejuvenate from within, this resort is indeed more than amazing! Located in a scenic and serene ambience, this resort property is blessed with a rich land heritage. Stay at this resort, not only takes you a step closer to nature but also takes you away from all the stress and worry you carry within yourself. It is one of the most preferred Malshej Ghat Resorts for it is a great honeymoon hideaway. It is also regarded as a comfortable family getaway. The resort has some fantastic amenities to make your holiday memorable:
Indoor games area
Outdoor games area
Swimming pool
Gazebo
Corporate meeting rooms
Restaurant
High-speed Wifi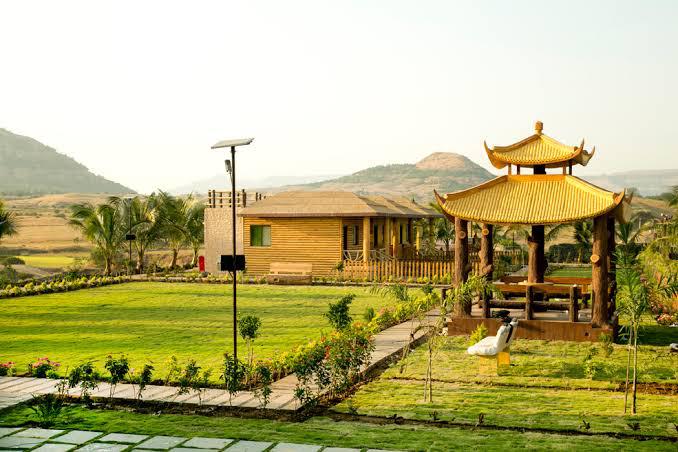 The resort is pet-friendly, giving you an opportunity to give your pet a fantastic day out
Address: Malshej Agro Tourism and Farm Gghodemal, A/P Dingore, Junnar Taluka, Maharashtra 421209
Contact for Booking and Enquiry: 076669 99143
Booking Cost: The resort offers various family rooms, resort bungalows, cottage stays, AC and non-AC villas, and luxury farm villas. The bookings start from INR 3500/- per night. The prices may vary with respect to season and time of booking. You can reserve your rooms by registering your stay through the website.
Click here for Malshej Agro Tourism Official Website
Taalish- A Boutique Resort
Hotel Class and Ratings: 3 Star; 4.5/5 Google Reviews
Located in the embrace of Naneghat, Taalish is a place where you become one with nature. Away from the city's chaos and the daily grind, this resort is a perfect getaway for you. Blessed with lush green surroundings and fragrant soil all around, Taalish is indeed graced! As you come over on a holiday, get ready to be amazed by the depth of valleys, the height of mountains and the abundance of nature in every little section where your sight reaches. Apart from being spectacularly beautiful, the resort is committed to making your stay a memorable one with its lavish amenities:
Indoor games area
Outdoor play area
Children's zone
Pets zone
Wooden cottages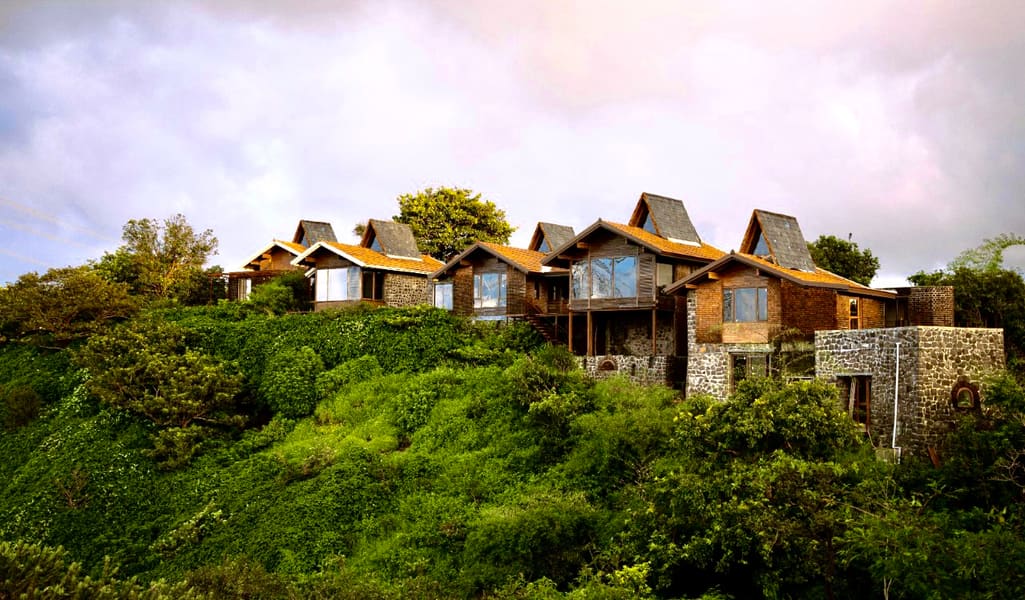 The resort also has a multi-cuisine restaurant that serves delicious food menus. Treating your taste buds with relishing dishes whilst enjoying nature is surely an experience in itself!
Address: Taalish Resort, Ghatghar, Junnar, Maharashtra 410502
Contact for Booking and Enquiry: 084089 41919
Booking Cost: The resort has beautiful and scenic cottages namely Haritki, Arjun, Moha, Anjani etc. These cottages offer different views and are named after significance. The bookings start from INR 12000/- per night for 2 people occupancy and range up to INR 15000/-
Click here for Taalish Resort Official Website
Dosti Lakewood Hill Station
Hotel Class and Ratings: 3 Star; 4.6/5 Google Reviews
Located close to Pune, this resort is also a quick weekend trip destination from Mumbai. As the name suggests, Dosti Lakewood is where you befriend nature to relax, recharge and reconnect yet again! This resort place is one of the most preferred family weekend trip spots in Malshej. Packed with enormous natural beauty, Dosti Lakewood Hill station resort connects you with the company of beautiful birds and plants. Not to miss the marvellous sunrises and sunsets from its viewpoints. The resort has beautiful amenities to make your stay extra cosy and joyful:
Swimming pool
Children's Park
Indoor games area
Outdoor games setup
Garden View Breakfast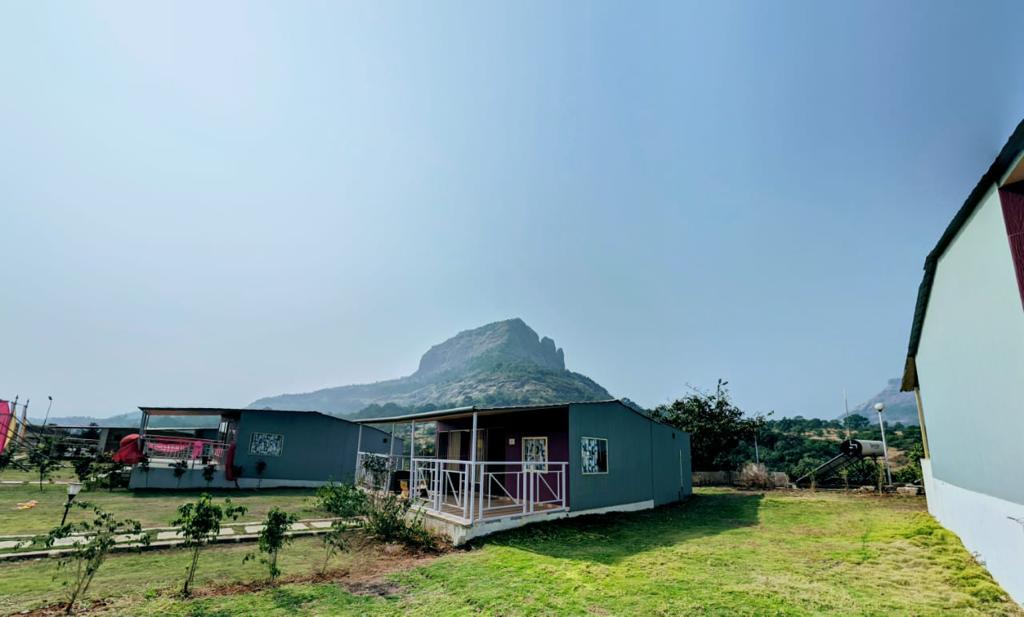 The resort offers information, help and assistance for trekking trips to nearby tourist attractions
Address: At Post Khubi Phata, Malshej Ghat, Ahmednagar-Kalyan Rd, Pune, Maharashtra 412409
Contact for Booking and Enquiry: 088797 61999
Booking Cost: The resort has Happy Couple Rooms starting from INR 7000/- per night, Lake View Houses starting from INR 9000/- and Lake View Rooms starting from INR 3000/- per night per person.
Click here for Dosti Lakewood Resort Official Website
Dongre's Farm
Hotel Class and Ratings: 3 Star; 4.4/5 Google Reviews
Located about 100 km from Kalyan, this resort property is on the very top of Malshej Ghat. It is known to be possessing the finest form of nature around itself and with lush green spans, Malshej ghat waterfalls, vegetation and an amazing atmosphere. It is one of the most famous picnic spots for tourists from Mumbai, Pune and Nashik as the resort is close to many historic destinations. Harishchandragad, Shivneri, Ozhar, and Lenyadri being close to Dongre's Farm, is also a perfect stay for trekkers and hikers. If you are lucky enough to be visiting this resort during the winters or the beginning of summers, get ready to witness the best moon and star-lit dinner you ever had. The farmhouse also has a number of amenities including the following:
Swimming pool
Rain Dance
Outdoor sports arena
Outdoor music system and speakers
Indoor games
Bonfire night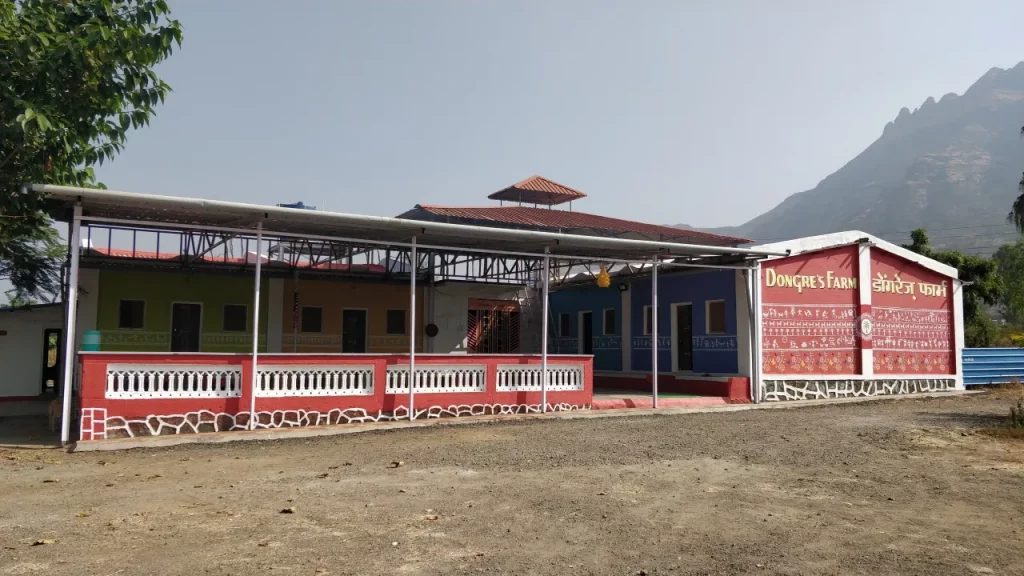 The resort has a well-established set-up of barbeque where you can enjoy a nice family time with a bonfire and some soothing songs
Address: Kalyan – Ahmadnagar (NH-61) Road, Top of Malshej Ghat, Kolwadi, Junnar, Maharashtra 412409
Contact for Booking and Enquiry: 093212 55006
Booking Cost: The resort has Homestay packages starting from INR 2200/-, and Camping stays starting from INR 1600/-. The rates vary depending on the availability of rooms, season and time of booking.
Click here for Dongre's Farm Official Website
You can book a camping stay here at just Rs.1299 per person inclusive of all meals.
Break The Routine
Hotel Class and Ratings: 4 Star; 4.2/5 Google Reviews
If you are an adventure-lover looking for a fun yet serene weekend break, this resort should be on the top of your list. Located close to dense rainforest, the resort is surrounded by spice-cultivating farms. Who would like an all-in-one package of greenery, a river-side stay, and waterfall views whilst living between dense vegetation? This resort is one of the best Malshej Ghat hotels having various fun and adventure activities inside of the campus. You'll want to stay a little longer here, as the resort offers some thrilling amenities as follows:
Swimming pool
Rope Climbing
Kids play area
Multi-cuisine restaurant
Indoor games zone
Scenic Outdoor breakfast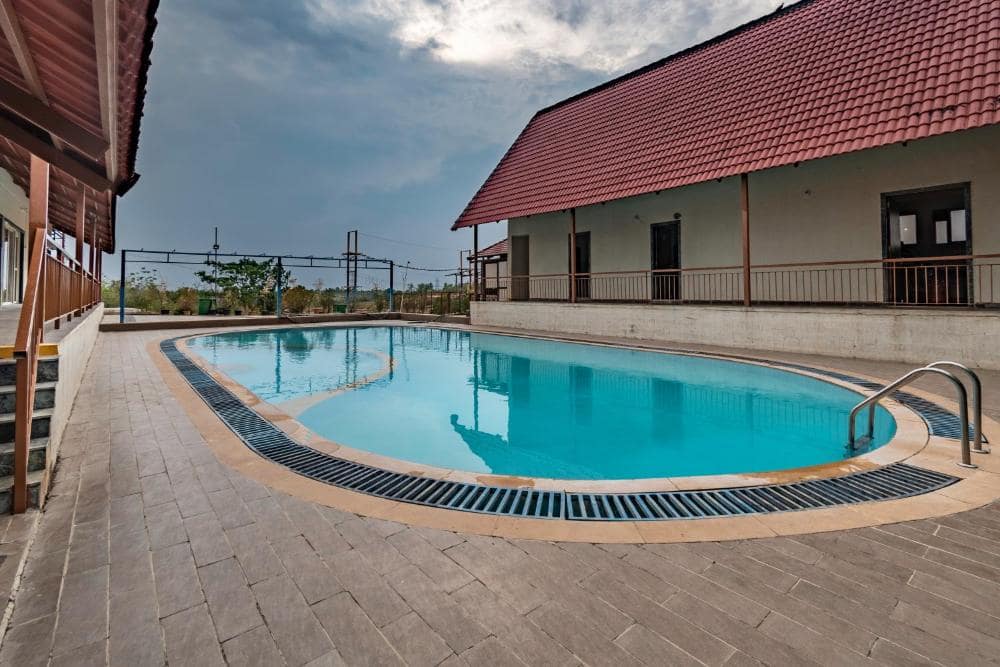 The resort has many water sports and adventure activities for children and adults like Burma Bridge, zip-lining, water slide rides, and much more
Address: Singapur Village, Off Mumbai-Nagar Highway Tal.:, Murbad, Maharashtra 421402
Contact for Booking and Enquiry: 022 6229 6229
Google Map Link: shorturl.at/ilswY
Booking Cost: The resort offers romantic stay suites for honeymoon couples. It also has double, triple and large-family occupancy rooms with different views. The room charges start from INR 4000/- and vary according to the setting of the room, occupancy, and time of booking. You can easily get a quote for your stay by visiting the resort website or by booking your stay on Goibibo.
Click here for Break The Routine Resort Official Website
Blue Water Resort
Blue Water Resort is a popular vacation destination when it comes to a holiday in Malshej. Located in the a scenic hill area, the resort has beautifully constructed cottages with a panoramic view of the lake and mountains for accommodation. Every room at Blue Water Resort has all the modern amenities and a balcony with comfortable chairs that allow guests to immerse themselves in the resort's lovely ambience. This outdoor space is more than perfect if you wish to have a cup of coffee while enjoying the breathtaking scenery.
Some of the amenities of this resort are:
Infinity pool
Delicious restaurant
Kids play area
Pet friendly
Banquet for weddings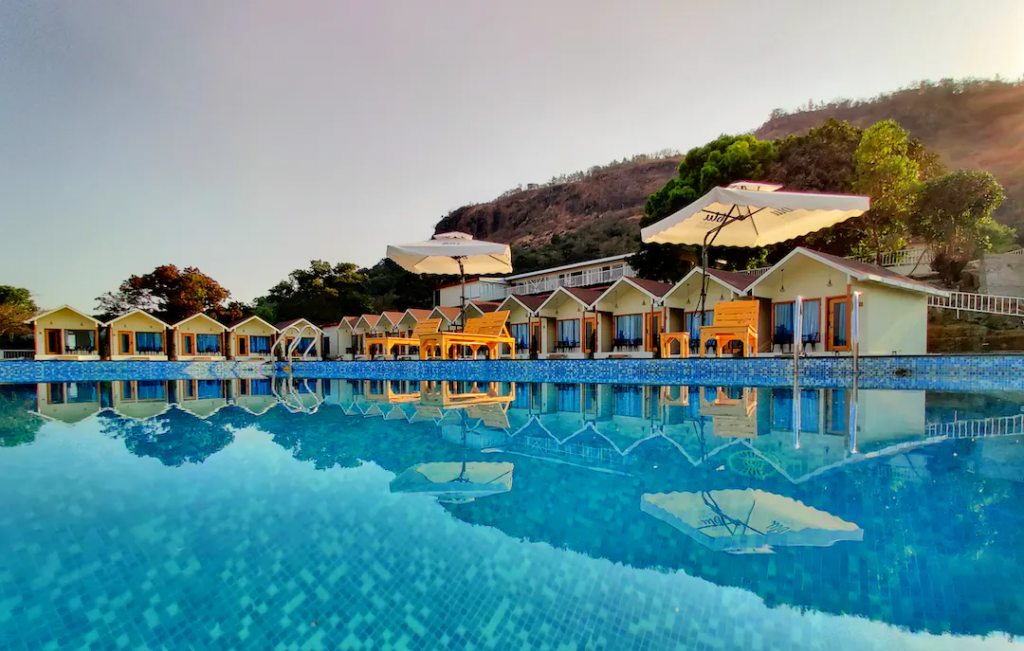 The resort provides you with Bali inspired bathrooms that have outdoor showers in some cottages. If you have been wanting to do it forever, now is the chance!
Address: Malshej, Maharashtra 412409
Contact for Booking and Enquiry: 090901 04545
Booking Cost: The cottage tariffs range from INR 9k to INR 11k based on your choice of view from the cottage, occupancy and your stay duration. You can get your bookings done from various websites, MakeMyTrip.
Click here for Blue Water Resort Official Website
Why Malshej Ghat Is Famous
Malshej Ghat is famous for its lakes, waterfalls, greenery, mountains, dense forests and monsoon tourism.
Is Malshej Ghat Worth Visiting
Totally! Malshej Ghat, though best known for rainy trips, is also a perfect spot to visit year-round. You can book a stay at a fantastic Malshej resort to be close to the magnificent nature that Malshej has to offer you.
What Is The Best Time To Visit Malshej Ghat
The best time to visit Malshej Ghat for road trips is in the rainy months of August, and September. However, the climate is pleasant for resort stays from October to December, i.e. from the beginning of winter.
What Are The Best Ways To Travel To Malshej Ghat
Although you can travel by train and MSRTC buses to reach Malshej Ghat, the most convenient mode of travel is to take a cab or self-drive. The ride is a treat to your eyes and also very comfortable.
Is Malshej Ghat Safe
Road trips, trekking and resort stays are absolutely safe in Malshej Ghat. But, since the zone is covered with dense forests, the wildlife can be active during the dark hours. You must refrain from taking night trips and rides in prohibited areas.
Visiting Malshej Ghat is an experience to never forget, but staying in one of the best Malshej resorts is like, becoming one with what you see, feel and touch around yourself! Truly, you shouldn't stop yourself from having this heavenly experience. This rejuvenating break is the most awaited, well-deserved and hence so much worth it! Go pick one Malshej resort as you scroll back and confirm your booking for the weekend you always wanted to spend with eternity!
Malshej Ghat is love, and so is it for you!
Wishing you a happy holiday…