In the embrace of nature, everything feels blissful and refreshing! Panshet is no less than heaven, and the resorts near Panshet enhance this experience so much so that, you are left nothing but delighted! This space throws light on some of the best resorts in Panshet, along with the necessary details of its amenities, location and costing. Not only can you expect luxury and beauty but as an add-on, you may also want to enjoy the peace that rejuvenates your mind and body! If you are someone wanting to have a relaxed holiday at a strikingly beautiful location and at a resort that truly adds the comfort of another level, you must give this a read.
Here's a list of a few hand-picked resorts near Panshet and Khadakwasla that you may want to visit during your short trip to Panshet. However, the good news is that they are all one of a kind and popular for their own uniqueness. To make your stay a memorable one, make sure you choose what suits your choices the best and is convenient for you to travel. Also, it is recommended to book your stay in advance to avoid last-minute surprises and of course higher booking amounts.
Panshet Valley Resort
Panshet Valley Resort is a property approved by MTDC and Agro tourism and is also one of the best-rated resorts in Panshet. It is a place that is well-maintained, safe, hygienic and blessed with a beautiful natural setting. It is best known for family outings, corporate meetings and some small-scale celebrations.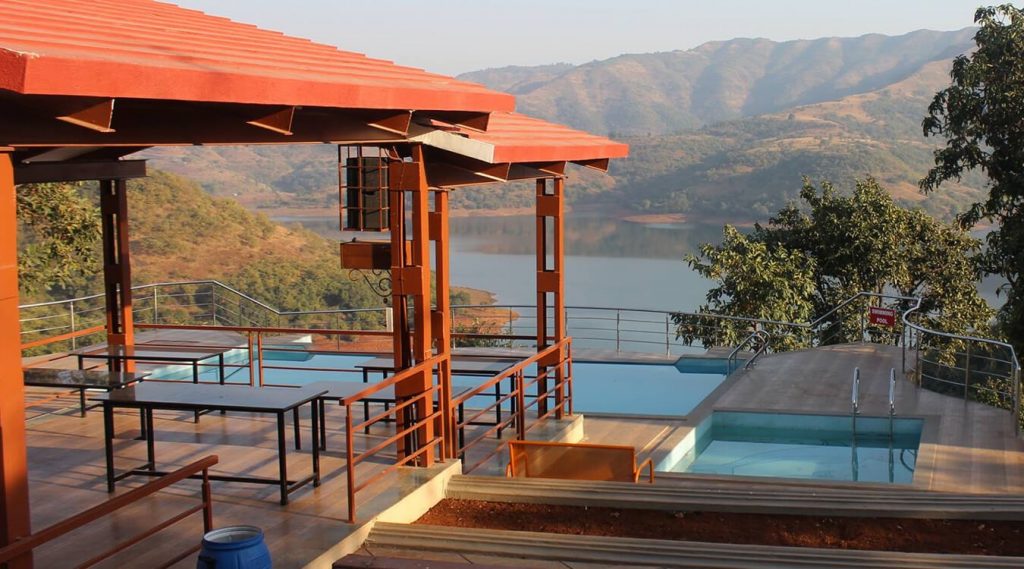 Panshet Valley Resort is at a distance of about 8 km from Panshet dam.
Amenities: Panshet Valley Resort has the following amazing amenities and activities inside of its property for you to enjoy your stay:
Outdoor sports area
Kids play area
Swimming pool
Treehouses
Meditation zones
In-the-room fireplace
Playgrounds
Suites
Cottages
Machan Houses
Address: Panshet Valley Resort, Vanzarvadi, Panshet dam, Ambegaon-Khurd, Velha, Pune, Maharashtra 412107
Contact for Booking and Enquiry: +91 7798913101 or +91 8378906636
Booking Cost: The bookings start from INR 2500 per person and above for different stay options.
Click here for Panshet Valley Resort Official Website
Gulmohor Village Resort And Farms
Gulmohar Village Resort and Farms is one of the most trusted and most visited resorts in Panshet. Famous for the extraordinary beauty that surrounds the property, it offers best-in-class services and amenities that impress you. Amidst lush greenery, and cool breezes, gazing at the mountain ranges is such a pleasure you would never want to miss! The property has a variety of rooms to choose from as per your needs and they are all equally beautiful! This resort has perfect offerings for everyone, may it be for couples, corporate events or large family get-togethers.
Gulmohor Village Resort and Farms is at a distance of about 7.5 km from Panshet dam.
Amenities: Gulmohor Village Resort and Farms has some of the best features and amenities as follows:
Restaurant
Bar
Campfire Area
Swimming pool for adults and children
Conference rooms for meetings
Halls for events and functions
Gym
Children's play area
Outdoor games area
Tents
Rain Dance zone
The property provides tents as well as ultra-luxurious rooms with prompt 24X7 room service.
Address: Gulmohor Village Resort And Farms 513 Vrundavan Society, Pune Panshet Road, Panshet, Pune – 412107
Contact for Booking and Enquiry: +(91) – 8805 409 797
Booking Cost: The prices vary according to the peak seasons and availability of rooms. You can easily book your stay through MakemyTrip or TripAdvisor. You may also contact the resort directly on the above contact details.
Click here for Gulmohar Village Resort Official Website
MTDC Resort
The MTDC Resort at Panshet is located in a very beautiful location, up on a hill. The property offers water views from both sides and it is extremely serene to be true! The resort has a variety of rooms to offer such as Non-AC, AC, Luxury suites, etc. The property is very close to the major tourist attractions of Panshet and hence the best place to choose for a wonderful weekend stay!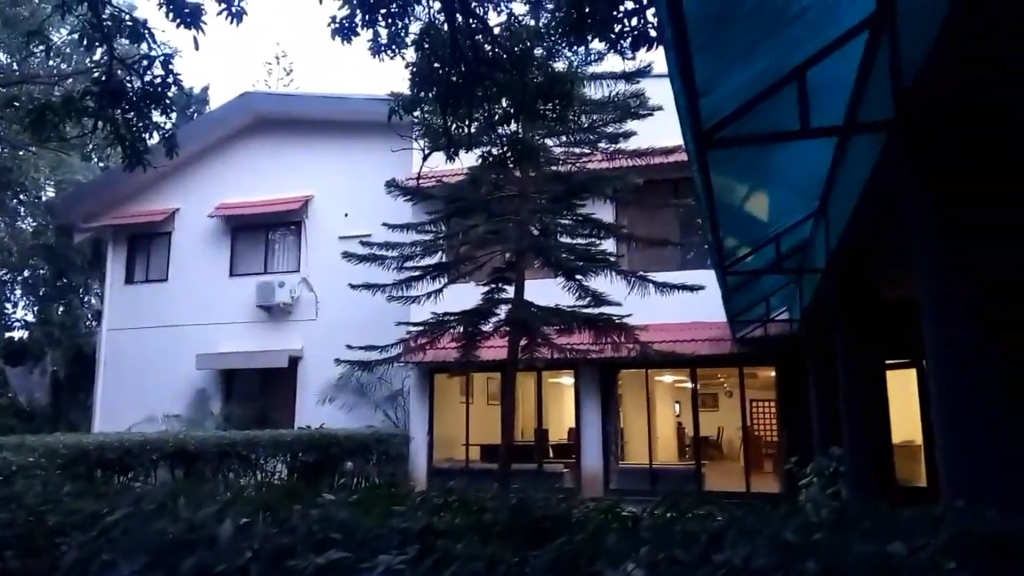 The MTDC Resort Panshet is only about a kilometre away from the Panshet dam
Amenities: The MTDC Resort Panshet has several properties across Maharashtra and is known for its top-notch stays and amenities. Here are a few best features:
Jalsagar Restaurant
Garden
Swimming Pool
Indoor Games Area
Outdoor Games
The MTDC resort Panshet is one of the most cost-effective resorts in Panshet for it has more beauty to offer than you actually pay for.
Address: At Post Panshet, Tal Velhe Dist.Pune- 412107
Contact for Booking and Enquiry: +(91) – 9422455830, +(91) – 9405746788, +(91) – 9324746229
Booking Cost: The stay options range from INR 2300/- to INR 3500/- per person for one night stay. The prices differ according to the room type you select for a stay.
Click here for MTDC Resort Official Website
River View Resort
This is one of the best resorts near Panshet Khadakwasla which has an amazing river view and is graced with an astounding natural setting. The resort is basically a beautiful white-coloured villa that is situated in between lush greenery. The breezes blow leaving behind the fragrance of wet soil and tiny flowers that decorate the place. It is a small property capable of accommodating less number of people at a time. It is recommended to make prior bookings at this place if you plan to stay near Panshet.
Amenities: The River View Resort is a modest and tiny property offering only selective yet all necessary amenities to make you feel at home. Following are the amenities the River View Resort has to offer you:
Open terrace
Well-maintained living rooms
Breakfasts served in rooms
Open areas for serene walks
Address: Pune – Panshet Rd, Khanapur, Maharashtra 411025
Booking Cost: The prices vary from season to season. You can make your bookings through www.tripadvisor.com or www.makemytrip.com to stay away from the hassle of bookings.
Click here for River View Resort Official Website
Ajinkya Lake Resort
This is one of the most beautifully constructed resorts in the vicinity of the Panshet dam. The natural, as well as the thoughtfully cultivated greenery in the surroundings of Ajinkya lake resort in Panshet, is breathtaking. The cherry on the cake is that the resort is magnificently graced with the backwaters of the Varasgaon dam. The ambience around is so beautiful that the place instantly makes you feel on cloud nine. This resort is known to be one of the best resorts in Panshet for couples, for the romantic environment it has to offer!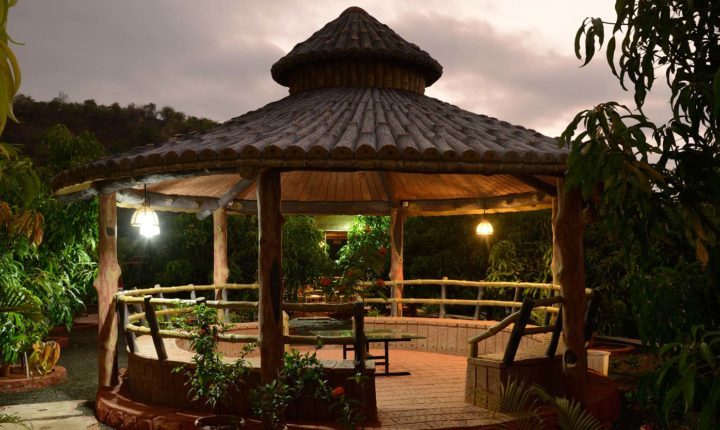 This property is about 12 km away from Panshet dam and can be reached in less than 30 minutes by car.
Amenities: Believe it or not, it feels like a dreamland you are in! The place is filled with everything that you will ever need and wish for:
Kids play area
Campfire
Swimming pool
Rain dance area
Outdoor play area
Outdoor dining
The resort has usual hotel rooms, bungalows and even wooden cottages as stay options.
Address: Near Varasgaon Dam Backwater, Saiv Kh, Tal – Mulshi, Pune – 412108, Maharashtra
Contact for Booking and Enquiry: +(91) –9011085511
Booking Cost: Depending on the type of stay you wish to choose, the prices are as follows:
| | |
| --- | --- |
| Bungalows | INR 3000 per person per day |
| Wooden Cottages | INR 6000 per person per day |
| Rooms | INR 5000 per couple per day |
| Lake View Cottages | INR 2700 per person per day |
Click here for Ajinkya Lake Resort Official Website
Mango Forest Resort
If you are guessing about a place nearby where you become one with nature, it is none other than Mango Forest Resort in Panshet. It is one of the best resorts near Pune and is a preferred location by tourists for a weekend getaway, small family outings or a corporate team picnic. Surrounded by lush greenery and the Sahayadri mountains, there's honestly nothing more you can ask for, but to your surprise, the property does have a lot to offer.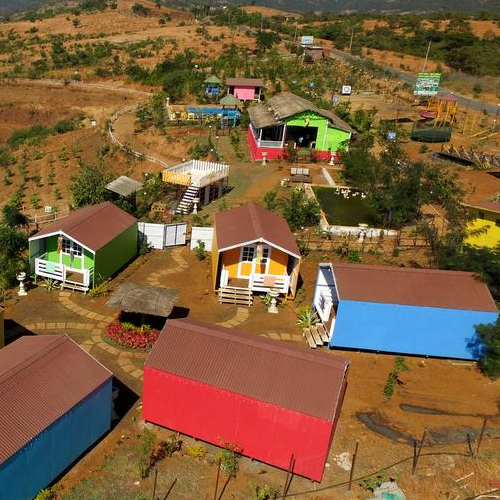 Mango Forest resort is about 30 km away from Panshet dam and is totally worth the wait!
Amenities: The Mango Forest resort takes care of you from start to end and makes sure you have the utmost fun throughout your stay. Here is a list of amenities the property has to offer you:
Campfire
Wooden cottages
Indoor games
Musical nights
Sunset points
Archery and other sports zone
Kids play area
Open spaces for team activities
Swimming pool
Address: Proposed MH 65 Highway, Towards Madhe Waterfall, Village Kolambi, Taluka Velhe, Pune
Contact for Booking and Enquiry: +91 8291 534120 / 7030 332244 / 7030332255
Booking Cost: Depending on your stay choice and food type, the booking cost varies. The day trip package ranges from INR 1000 to INR 2000 while the overnight stay package costs you approximately INR 2500 to INR 3000. The prices vary in peak seasons.
Click here for Mango Forest Resort Official Website
Ripples Resort
Situated in the best geographic setting, this is one of the best Panshet dam resorts you would ever come across. It is a luxury hill resort in Panshet that has an amazing ambience filled with serenity. You can expect rooms with brilliant decor or cosy cottages to enjoy your short trip. It offers a comforting, calming and memorable experience that refreshes you from within and makes your experience one of a kind. If you are looking for a family-friendly resort in Panshet, Lake View Resort is surely going to impress you. It is the best place to visit for couples for short dates or for groups of friends, corporate teams, etc.
Amenities: The resort has luxurious to ultra-luxurious amenities that you would not want to miss:
Swimming pool
In-house bar
Fine dining
Open lawns
Banquet halls
Outdoor games area
Indoor games zones
Wifi-lobby
Address: Pune – Panshet Rd, Malkhed, Maharashtra 411025
Contact for Booking and Enquiry: +91-7448010777
Booking Cost: The resort offers a One-day citation at about INR 1199 per person, and a meal package at INR 5500 per couple per day. It also offers deluxe rooms at varying prices depending on availability and tourism seasons.
Click here for Ripples Resort Official Website
Conclusion
There are a number of great resorts near Panshet Khadakwasla that you can choose to be at for having a mesmerising short trip. Remember to choose quality over budget and delight over mere comfort! Panshet resorts are truly blessed with the best of the ambience, all geared up to cheer you up! So what is it that you are waiting for? It's almost time to make those last few clicks to make your bookings at the best resort near Panshet for one day picnic of yours!!
Panshet Water Park
If you are going to Panshet, it would be unfair if you don't enjoy kayaking and windsurfing in the famous Panshet Water Park. Do check their timings, prices and contact details before going.
Panshet Camping
If you are looking for a budget stay in Panshet dam, you can go camping at Weekend Feels' hilltop campsite, which overlooks the entire Panshet Dam and gives a 270-degree view.