Are you a mountain person? Are you looking for a short break from your daily grind at a green spot? If you do, this word space is about to make your day!
Panshet is undoubtedly one of the best picnic spots in Maharashtra and is known for its scenic surroundings and a serene yet resonating vibe. Situated on the outskirts of Pune city, about 50 km to its South, Panshet is home to lush greenery, gushing waterfalls, and mountains. It is known for its unparalleled natural beauty and an absolutely enthralling ambiance. Because the monsoon rains have already begun, there wouldn't be anything as perfect as visiting Panshet for a short holiday! This blog space will prove to be a detailed guide for you on how to reach, things to do, eating spots, and camping opportunities at Panshet. Having said that, backpacking to Panshet is around the corner!
History Of Panshet
Panshet is nothing less than a delicate piece of paradise on the lands of Pune!
Constructed in the year 1950, the Panshet dam is a 63.56 high and 1039 meters long dam in the Velhe region of the Pune District. Panshet is one of the main dams of the city and is majorly used for irrigation and tourism purposes.
Why You Should Visit Panshet
Situated amidst the lush greenery of the Sahyadris, Panshet is graced with the most picturesque setting. Panshet is blessed with the best climate in the early monsoon season where you will find yourself lost between the clouds that touch the ground you stand on! Offering the best trekking, hiking, and water sports adventures, Panshet proves to be a complete package for a long-cherished holiday!

How To Reach Panshet
Panshet dam distance from Pune city is about 41 km. There are different modes of transport available to reach the Panshet dam. Depending on the availability of time and the most convenient mode to travel, you can choose from the following:
By Air: If you are a tourist coming from another city, you are likely to be landed at Pune International Airport. The airport is about 37 km away from Panshet. You can choose to take a cab directly from the airport toward the Panshet dam. If you wish, you can also choose to travel by local bus transport.
By Bus: If you are based out of Pune, or, are starting your travel toward Panshet from the city center, traveling by bus is an option to choose! There are buses starting from Swargate Pune at around 8 am and 11 am heading toward Panshet dam directly. You can choose the nearest bus to board these buses. Similarly, buses start from Panshet, back to Pune at around 11 am and 2 pm every day. These buses are state-run and Panshet being a considerably remote region, you may not want to miss the said bus schedules. It is also recommended to head back toward Pune on your return journey in the morning hours. By doing so, there is a reduced risk of traveling during the late hours of the day if there happen to be bus schedule cancellations.
By Train: The nearest railway station to Panshet is the Pune Junction. The Panshet dam's distance from the station is about 25 km. Hence, you will need to take a bus from Swargate or Kothrud that heads towards the Panshet dam. You can also choose to book a cab in order to make your travel quicker and easier.
By Car/Bike: This is one of the most convenient options to reach Panshet. If you have a car or bike of your own, you can self-drive. You can even choose to hire a private cab (Uber and Ola offer their services toward Panshet). You can reach Panshet by starting off from Kothrud, Rajaram Bridge to head toward the Khadakwasla dam. On reaching the Khadakwasla, you will need to take a right turn from a place named Donaje Phata to reach Panshet. If Kothrud is too long for you, you can also start off toward Khadakwasla by taking the route of Warje Malwadi. It takes about 1.5 hours by road to cover the distance of 40 km toward Panshet from the city center. It is to be noted that, covering the last few miles before reaching Panshet can become challenging. The roads are not in a very good state. However, they are fine enough to pave a way for cars and bikes driven at a slow pace.
Best Time To Visit Panshet Dam
Panshet is scenic and peaceful during the early winters i.e from November to February. But if you wish to witness its most gorgeous form, don't miss visiting it during the monsoon. Monsoons are the main water source for the Sahyadris and hence the gushing waterfalls. After all, what's a trip to a green place without such a splendid landscape around you! The surroundings of Panshet are glorious and lush green from the months of June to September. Having visited Panshet during the rainy season also gives you a chance to enjoy the best water sports, food, and photography.
Things to Know before visiting Panshet
Here are a few important things you must know before you plan your holiday to Panshet:
Timings: Visiting Panshet dam is allowed between 10 am to 6 pm
Time required: If you are not planning to camp at Panshet dam and are visiting it just for a day trip, you will need, not more than half a day to explore it completely. (This does not include any nearby treks or activities)
Medical Help: Unfortunately, there is no serious medical help available within a radius of 5 to 10 km of Panshet dam, Pune. It is recommended to carry a first aid kit along with the necessary medications in case of emergencies.
Food options: There are few modest yet good options available for eating in the vicinity of Panshet dam. Most of which are local and serve rural dishes on an Indian menu. It is a good idea to carry some basic snack items along with you.
Network connectivity: You may find the network fluctuating as you start entering the vicinity of the Panshet dam. The service providers like Airtel and Idea have the least connectivity while Jio and BSNL perform better. It is recommended to download offline Google maps well in advance before losing the network connectivity.
Transport options: There are fewer to no travel options like autos, buses, etc. near Panshet dam. The buses run only twice a day with no availability of any tracking apps and tools.
Famous Places to Eat near Panshet Dam
There are very few eating options available in the vicinity of Panshet Dam. However, if it is possible for you to travel a bit, the following are the best places to eat near Panshet dam:
Happy Sandwich: If you wish to have some snacks, this place is the best one. As the name suggests, this cafe serves delicious sandwiches, pizzas, burgers, etc. It is only about 12 km away from Panshet dam.
Revival – Indian Thali: If you are looking for some authentic and typical Indian food, this place serves it the best. You can expect unlimited food on the Thali menu of this restaurant.
Chor Bizzare: It is a multicuisine restaurant serving an Indian menu. The restaurant is amidst a great ambiance and offers tasty food to make your day!
Things to do near Panshet Dam
Panshet is a perfect holiday destination near Pune. It is filled with beautiful surroundings, greenery, peace, and adventure. Here are the things you can do while on your holiday to Panshet dam Pune:
Visit Panshet Lake
This lake is actually the backwater of the Panshet dam and one of the most visited tourist spots in Pune. You can spend time listening to the chirping birds and the silence that fills the air and also gaze at the greenery spread across the Sahyadris. Do not miss on having the Panshet dam boating experience!
Panshet Water Park
Another most-visited spot by tourists is the water park of Panshet. Known for its fun rides, and other water sports for all age groups, visiting the Panshet water part is totally worth it.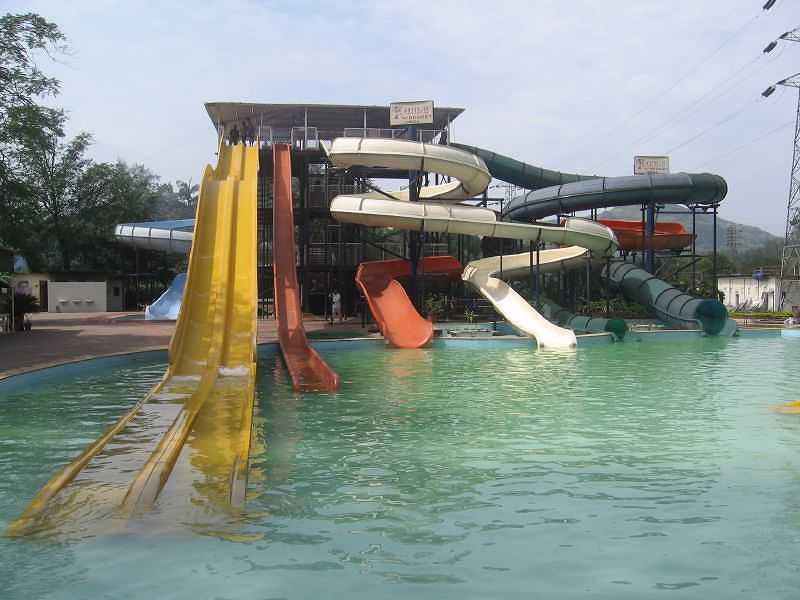 Water park Time: All weekdays, 10 am to 6 pm
Time required to explore: About an hour or two is sufficient to complete almost all the rides at the water park.
Contact Details for enquiry: +91-20-41411234
Bookings: You can book your tickets to the water park online here, or book offline on the spot.
Water Sports available: You can enjoy boat rides, banana boat rides, kayaking, windsurfing, etc.
The entry fees are as below
| | | |
| --- | --- | --- |
| | Adults | Kids |
| Weekdays | ₹250 | ₹170 |
| Weekends | ₹300 | ₹230 |
Panshet Camping
The Panshet dam camping takes place in the vicinity of its backwaters. The lake-facing tents, serene surroundings, chilling atmosphere and beautiful rain is all an experience like none other! Camping at Panshet is a good weekend trip with your friends or family that can prove to be refreshing during the monsoon season. However, the Panshet Dam Camping is open year-round. There are many organizers that help you to book your camping holiday at Panshet. Following are the essential details of camping at Panshet Dam:
Tent Price: Approximately INR 900 for kids and INR 1200 per person.
Activities included: Lakeside games, bonfire, music, barbeque, dinner and the next day's breakfast
Other: Tents are mounted in sheds during heavy rains. No night trekking activities are included in Panshet dam camping.
You can go for the most famous hilltop and dam overlooking Weekend Feels Panshet Dam Camping.
Visit Khadakwasala Dam
One of the major sources of water to Pune city, the Khadakwasla dam is also a very popular tourist spot on the outskirts. It is at a distance of 40 km from Panshet dam and so a must-visit on your trip to Panshet. The place is graced with a breath-taking landscape that is a perfect fit for a family outing. It is open year-long and is also a great camping spot. Don't miss out on enjoying some finger-licking Maharashtrian dishes like bhaji, misal, sweet corn, etc. in the vicinity of Khadakwasla dam.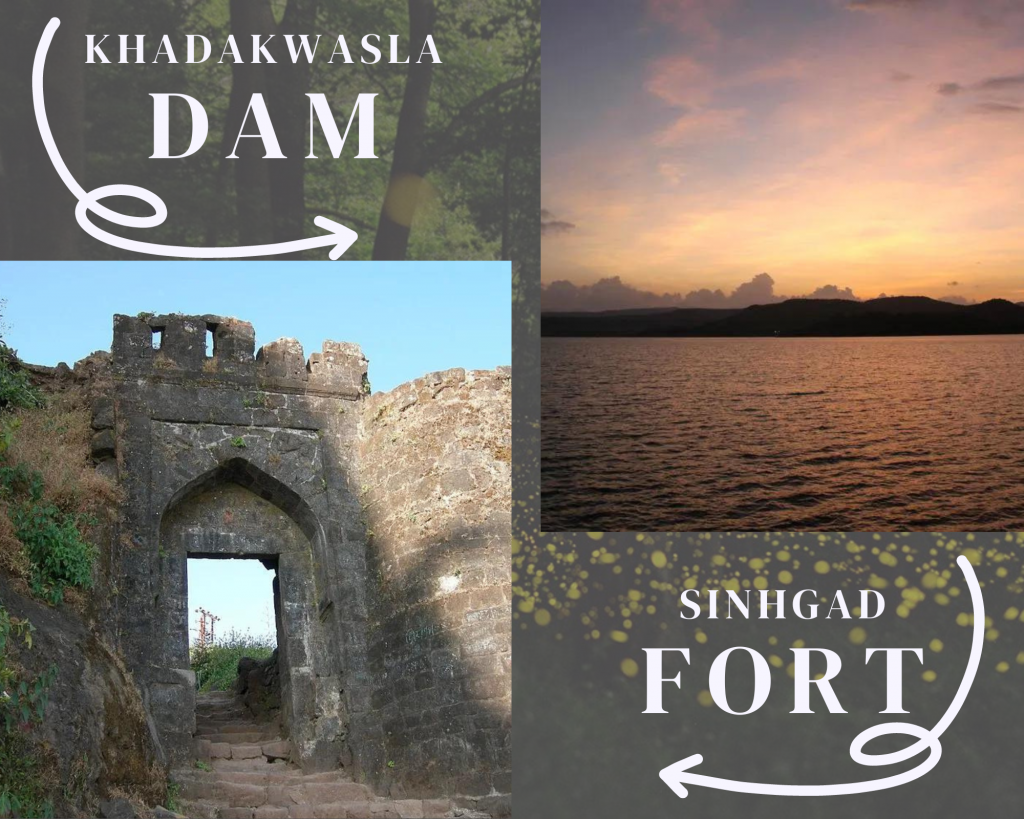 Trekking at Sinhgad Fort
Situated only 17 km away from Panshet dam, it is a spot you should not skip visiting if you are a trekking enthusiast. Sinhagad is a major historical highlight of Pune city and has great significance in the history of the Maratha dynasty. The present-day fort is a weekend tourist destination for young trekkers, bird-watchers and travellers. With prior permission from authorities and depending on the climatic conditions, you can also camp at Sinhagad fort. Many trek groups are seen to be visiting Sinhagad for a famous Katraj to Sinhagad (K2S trek). Don't miss having a plate of Pithla-Bhakri sided with curd!
Other places to visit
You may consider visiting the Torana fort, Neelkantheshwar hill temple, Varasgaon Dam, and Rajgad fort on your way back to Pune. The places are amazing destinations to be at if you do have some extra time available with you.
Panshet Dam – A Must Visit
It is a matter of fact that, you can never have enough of the beauty of Panshet. However, you are meant to have a content and refreshing experience away from the concrete jungles. Having connected to your inner self, in the presence of the best of the climatic conditions and the beauty of silence, get ready to welcome a new YOU! Needless, to say, the Panshet dam weekend getaway is worth not a single visit but a few more!
7 Best Resorts In Panshet
If you are someone wanting to have a relaxed holiday at a strikingly beautiful location and at a resort that truly adds the comfort of another level, you should read this – Best Resorts In Panshet.