Maharashtra tourism is packed with every kind of beauty; may it be the stunning mountains, and hills, the waterfalls, the forts and of course its relishing cuisine! But have you been hopping on places like Mahabaleshwar, Matheran, Panchgani, and Lonavala time and again? Do you think you have explored enough of the lands of Maharashtra as a traveler? If you do, then here's probably something more for you. This blog is a collection of five offbeat places in Maharashtra that are stunning, adventurous, and untouched. It's time you explore these hidden gems of Maharashtra for some of its incredibly special tourists spots:
Chikhaldara – The Coffee Estate Of MH
This tourist spot has an extraordinary altitude of 1118 m. And so, it is the only coffee estate in Maharashtra. Popular as a hill station, this place is a great offbeat tourist destination to explore varied shades of natural beauty. Situated in a modest setting of Amravati, Chikhaldara is filled with untouched natural beauty, vegetation and supreme climate. This coffee estate is not only home to a large number of wild animals like tigers, sambars, wild boars, sloth bears, and wild dogs but, Chikhaldara is a perfect destination for tourists seeking serenity and adventure together. Packed with plenty of viewpoints, waterfalls, wildlife, lakes and forests, there's a lot more history to everything than you would imagine!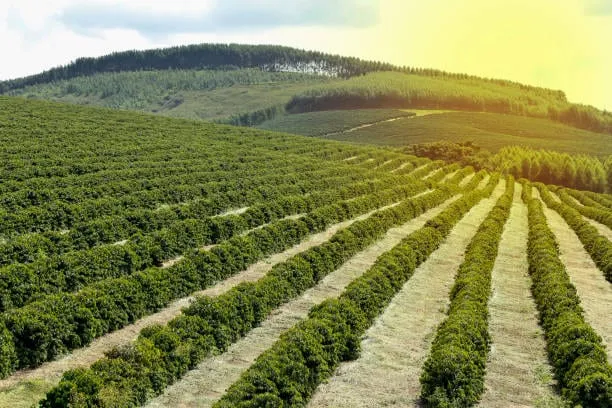 Best Things to do: Chikhaldara is a complete place with plenty of places to visit and satisfy you with its enthralling beauty! You can enjoy site seeing, be close to wildlife, or even have fun-filled adventures at trekking sites and lakes.
Site Seeing: Panchbol Point, Hariken Point, Devi Point, Sunset Point, Monkey point, Mozari Point, Malviya Point, Prospects Point, and Panchbol Point
Gardens Visits: Pandit Nehru Botanical Gardens
Wildlife Viewing: Chikhaldara wildlife sanctuary, Melghat Tiger Reserve, Gugamal Wildlife sanctuary, and Wan Sanctuary.
Other Activities: Gawaligad Fort, Narnala Fort, Chikhaldara waterfalls, Semadoh Lake, Muktagiri temple, Bir lake, Kalapani lake and Amner Fort.
Best time to visit: Chikhaldara being a hill station, experiences a pleasant climate across the year. It has summers from March to June when the climate is dry and warm. You can prefer visiting Chikhaldara during these months to beat the summer heat of your city. However, the best time to visit Chikhaldara for site seeing and exploring is during the winter from the month of December to March.
Kaas plateau – The world full of flowers
Very well-known as Kaas Pathar, it is a whole new world of flowers in Maharashtra. It is known to be a bio-diversity hotspot where thousands of flowers bloom annually. A huge variety of wild species of flowers including orchids, Karvy, Drosera Indica, etc. are seen at the Kaas Plateau. It is a place as a result of volcanic rocks in the Satara region of Maharashtra. The plateau turns to a wide spread of colours after the first monsoon rains in June. With the abundance of beauty that it holds, Kaas Plateau is listed on the UNESCO world heritage site for its miraculous scene annually. A huge number of travellers, tourists, researchers and even scientists from across the world visit Kaas Plateau during its blooming season. The plateau is home to a number of endemic and endangered species of flora and fauna and hence has a lot of significance to biodiversity.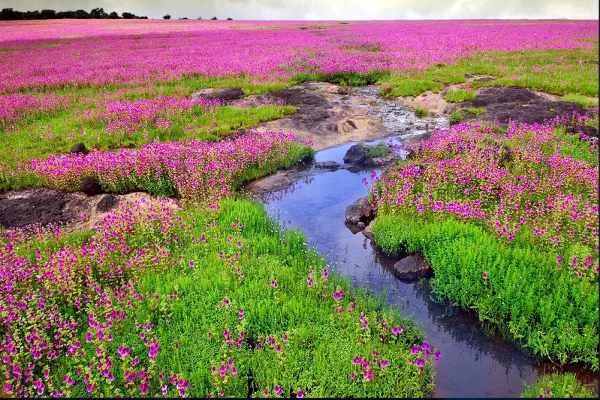 Best Things to do: The Kaas plateau changes the colour of its flower carpet almost every week. It depends on the intensity of rainfall and the life cycles of the flowering species. There are several things you can do at the Kaas plateau:
Site Seeing: You can visit the plateau to witness this miracle-filled nature viewing. Check out the beautiful stretches of flowers along with various species of butterflies all around. You can also do bird watching since the place has rare species of birds as visitors during its blooms. The entry fee for flower watching at the Kas Plateau is about INR 50 to INR 100.
Adventure: You can visit the Ajinkyatara fort, Sajjangad fort, Vajrai waterfalls, and Lingamala waterfalls for a fun-filled adventure.
Other: You can visit and explore places like Table Point, Elphinstone Point, and Koyna Wildlife Sanctuary.
Best time to visit: You can visit the Kaas Plateau amidst the monsoons in Maharashtra. During the months from August to October, the plateau experiences its best flower blooms.
Kolad – River Rafting And More
Known for its scenic environment filled with lush greenery, beautiful water bodies, mountains and waterfalls, Kolad is nothing less than heaven on earth! The place is famous as a getaway for any traveller, for it has all tourism options at your service. May it be an adventure, a relaxing weekend or strolling around in nature's embrace, Kolad has it all. Most travellers from Mumbai, Pune, Nashik and Aurangabad prefer to visit it for a two-day weekend trip, as it is pretty close by and quite a budget-friendly picnic option. Enjoy the abundance of nature in the scenic company of the Sahayadris and make it a weekend to cherish with all the adventures.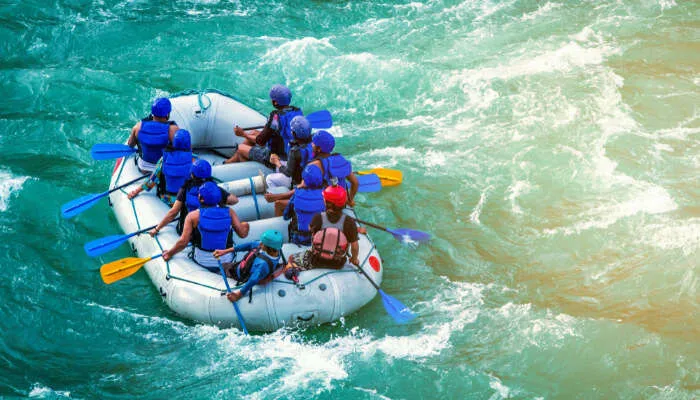 Best Things to do: Visiting Kolad for a weekend trip is like a whole new refreshment regime. And here's what all you can do on your outing:
Water Sports: Enjoy fun moments of river rafting, Jetskiing, River crossing, Kayaking, banana rides, and bumper rides, in Kundalika river waters and/or Bhira Dam. Depending on the type of rafting ride and duration, you can book your water sports river rafting ride starting from INR 1200 and above. Read this article to know the timing, prices and contact details of Kolad River Rafting.
Site-seeing: Visit Bhira Dam, Sukeli Waterfalls, Sutarwadi lake, Dholwal Dam, and Kuda caves and enjoy the eye-catchy beauty around you.
Trekking: A day of adventure can be enjoyed at Avchitgad Fort, Ghosla fort, Tala Fort, and Surgad for trekking
Other: Visit the Kolad Museum to know some amazing ancient historic facts about Maharashtra.
Best time to visit: Kolad is best-know for its white water rafting. The best season to enjoy these fun sports rides is during the monsoon season. The months of June to October are the best for visiting Kolad. The climate is pleasant, the surroundings are green and the water bodies are gushing with the water flow just right for all the water adventures.
Tapola – Water Sports For You
Popularly known as the mini-Kashmir of Maharashtra, Tapola is a land blessed with stunning natural beauty and a fantastic climate. This is the best getaway in Maharashtra and is one of the most untouched tourist places near Mumbai and Pune. Located in the arms of Mahabaleshwar's own beautiful backdrop with Sahyadri mountains, valleys and greenery all around, get ready to have an ever-refreshing weekend with your loved ones. If you are someone wanting to visit the most calming, relaxing yet adventurous place in Maharashtra, you certainly can't miss out on Tapola.

Best Things to do: Tapola is best-know for its site seeing and water sports and here's how you can have a fantastic holiday there:
Water Sports: Enjoy Kayaking, water scooter rides, Speed boat rides, Paddle boating, and swimming at the lake formed by the Koyna river. You can book your fun rides on spot starting from INR 990 per person.
Site Seeing: Enjoy the ambience around Shivsagar Lake, Wilson Point, Veena Lake, strawberry farms, Bamnoli village
Trekking: Have an adventurous day out at Vasota Fort, Jaygad Fort, and Tapola Forest trek
Other: Camping on the lakeside with a campfire, music and mouth-watering Maharashtrian cuisines.
Best time to visit: Nature is at its best from the month of July to September. It's the monsoon season that makes the water bodies lively, and the surrounding lush, exactly the way that would please your soul!
Lonar – The Only Crater In India
Known to be the world's oldest meteoric crater, formed in basalt rock, Lonar is a notified national geo-heritage site in Maharashtra. Popular for its saline and alkaline water this crater lake is 1.2 km in diameter. Lonar lake gained enormous popularity beyond the boundaries of the country for it turned pink a few years back due to the saturation activity of Haloarchaea microbes. Not only does the crater look magnificent but it is also a pleasure to be around it as it is one of the rarest wonders on the planet! Surrounded by mountains, greenery, soothing climate and crops cultivations, there's everything you could ever ask for, on a holiday. Lonar is a great weekend getaway in Maharashtra where tourists prefer to stay and enjoy the company of nature.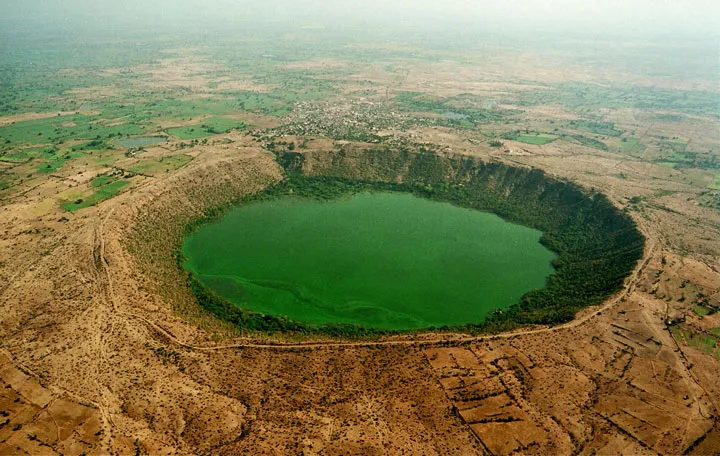 Best Things to Do: Lonar is a dream destination for nature lovers and travellers valuing exploring the unexplored. Here are a few things you must do on your weekend at Lonar:
Site Seeing: Daitya Sudan Temple, Lonar Crater, Gomukh Temple, Vishnu Temple, Balaji Temple, Anandsagar- Gajanan Maharaj Sansthan.
Trekking: Botha Forest, Sindkhed Raja Fort and other Sahayadri mountains and hills
Other: Boating, Swimming and fun sports in lakes and water bodies in the geography. Usually, travellers prefer to come around to Lonar for a laid-back holiday. You can prefer booking a resort stay to have a relaxing holiday in the abundance of nature.
Best time to visit: Climate is beautiful and bountiful during the winter of Maharashtra, making November to January the best months to visit Lonar.
Kamshet – Fly High With Paragliding
Located close to Pune city, Kamshet is a replica of paradise! It is one of the best paragliding locations in Maharashtra. Naturally graced with beautiful surroundings of the Sahyadri ranges, western ghats, waterfalls, and forest covers, Kamshet gives a complete holiday vibe! If you are someone looking for a fantastic paragliding adventure in Maharashtra, Kamshet is a must-visit for you. Here's a complete guide on the highlights of Paragliding rides and other things to do in Kamshet:
Things to Do: Between a scenic landscape, paragliding is a one-of-a-kind experience that you should not miss. Following is everything you need to know about Paragliding in Kamshet.
Joy Tandem Paragliding: This is one of the most famous paragliding rides. It is a beginner-friendly ride controlled by a pilot. You can book your ride at the cost of INR 3000 to INR 4000, well in advance.
Instructional Tandem Paragliding: This is a guided paragliding ride. It is guided by a trained guide. You are instructed to take action with the controls you have in your hands. This ride is of intermediate difficulty and is safer and best for moderately experienced paragliders. The cost of this ride ranges between INR 4000 to INR 5000.
Acro Tandem Paragliding: This is a paragliding ride for experienced paragliders. The ride is guided by a pilot and includes advanced moves. Acro Tandem has complex moves like spirals, SAT, wing over, ridge dancing, etc. The cost of this ride ranges between INR 6000 to INR 6500.
You can book your Kamshet paragliding rides online on Kamshet Paragliding, Paragliding Mantra, Skying Adventure, etc. depending on availability and affordability. You can also enquire on the Kamshet paragliding contact number 070380 71071 or request booking by sending an email to kamshetparagliding@gmail.com.
Trekking: Enjoy the adventure of trekking at historically significant forts like Tikona, Lohagad, Visapur, Purandar, Sinhagad, etc.
Site Seeing: Karla-Bhaje caves, Bhairin caves, Uksan Lake, Bedse caves, Bhaje waterfalls
Camping: Pawna lake camping is one of the most popular activities of Maharashtra tourism. When at Kamshet, you must make time to be on the banks of Pawna and light some campfire alongside barbeque!
Best Time to Visit: Paragliding rides are open during the winter and summer seasons and are restricted in the rainy season. You can visit Kamshet from the month of October to May.
What Else You Can Explore
Maharashtra is the land of generous beauty of miraculous nature. You might fall short of time to discover the hidden gems here. While scrolling through this space, hope you found some interesting spots and their facts to re-live the beauty of this historic place- Maharashtra yet again!
Having said that, where do you plan to head to with all the packed bags? Have you found your next best weekend getaway in Maharashtra?