Maharashtra is renowned for its stunning natural beauty and extensive cultural legacy. Maharashtra, a state that extends a warm welcome to nature and animal lovers, is the perfect destination if you love exploring water bodies, mountains, and even zoos. Maharashtra has a diverse range of flora and fauna due to its rich geography. Travel enthusiasts who love trolling forests and wildlife will indeed have an unforgettable experience exploring it. Furthermore, consider visiting one of the Maharashtra zoos if you want to relive your youth or want to influence the formative years of your children. Read this article to learn all the information about the best zoos in Maharashtra if you are planning to visit one of them anytime soon:
Gorewada International Zoo
Situated in Nagpur, this zoo has a wide variety of visitors each year. Because of the sprawling and stunning abode for wildlife, Gorewada Zoo attracts tourists from all over the world. A variety of attractions and safaris, including an Indian, African, and night safari, are available at this zoo. A zoo and a biopark, this is a great place to explore migratory birds, flora, and fauna as well as get close to animals. You can also stroll through the greenery, which has a wonderful atmosphere and seems like a mystical place with butterflies. It's a delight to observe wild animals, marine life, squirrels, and other wildlife. This is also a treat for every bird watcher. The natural surrounding makes for a wonderful sunset view, which offers a golden chance to photographers to capture enchanting snaps. Within this zoo, nature lovers can enjoy lakes to the fullest. You can spend some time unwinding by the lake while enjoying the serene atmosphere. You can also relax on the benches and gazebos while admiring the breathtaking views of the surroundings.
Special Attraction: Over 200 indigenous and migratory bird species are among the attractions. In addition to that, it includes:

Leopards
Sambar deer
Spotted deer
Porcupines
Nilgai
White Buck
Blackbuck
Bear

Address: Balasaheb Thackeray Gorewada International Zoological Park, Katol Rd., Bodhala, Near Fetri, Nagpur Maharashtra India
Timings: 8:30 am–6 pm, Inquiry Timings: 9 am to 7 pm
Jungle Safari Timings: Morning: 6 am To 9 am, Afternoon: 2:30 pm To 5 pm
Entry Fee: Starting from INR 160
Click here for Gorewada International Zoo Official Website
Rajiv Gandhi Zoological Park
Home to several animal species, including birds, reptiles, and more, Rajiv Gandhi Zoological Park is located in Pune with 130 acres of land. This park has an animal orphanage where you can enjoy feeding and taking care of abandoned wild animals. Picnics and excursions are perfect here. This zoological park also offers a lake, beautiful scenery, and an opportunity to meet some of India's endangered species of birds and animals. While experiencing close encounters with wildlife and plants, you can enjoy your trip and make memories that will last a lifetime. Additionally, at this park, there are many areas where you may observe animals from a distance and in closed enclosures. Additionally, this zoo conducts educational seminars and events that can teach you more about the animals and their lifestyle. Through such events, you can also learn about the psychological traits of animals.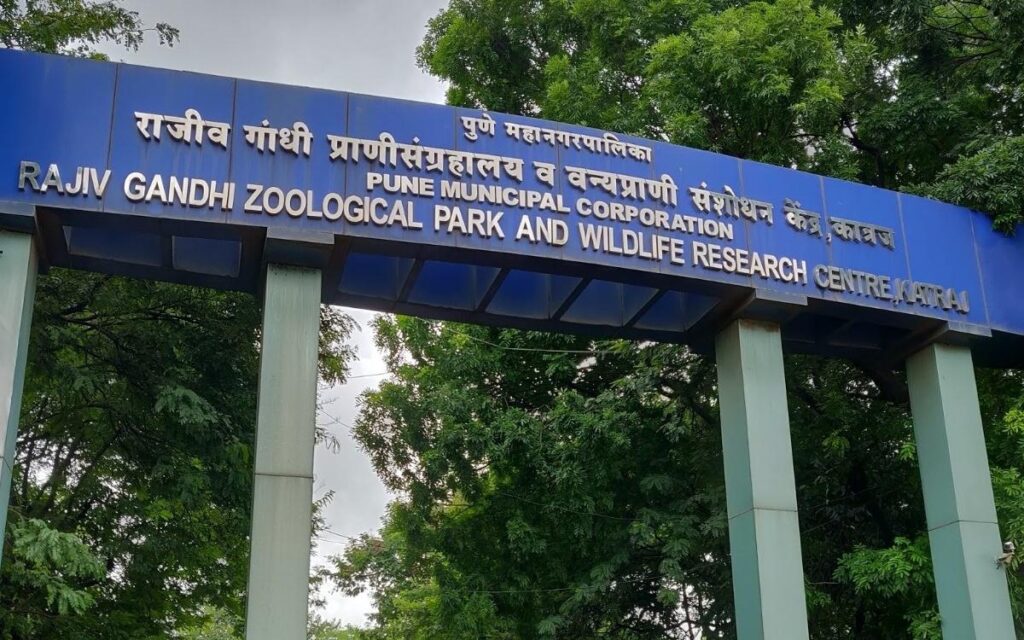 Special Attraction: Often known as the Katraj Zoo or Rajiv Gandhi Zoo The Rajiv Gandhi Zoological Park is also a shelter for:

A White Tiger
A Male Bengal Tiger
Leopards
Sloth Bears
Sambhars
Barking Deer
Blackbucks
Variety of monkeys
Elephants

Address: Pune-Satara Rd., opp. Katraj Dairy, Katraj, Pune, Maharashtra 411046
Timings: 9:30 am – 5:00 pm
Entry Fee: Starting from INR 10- 15
Click here for Rajiv Gandhi Zoological Park Official Website
Veermata Jijabai Bhosale Udyan And Zoo
Referred to as Byculla Zoo, Veer Jijamata Udyan is one of India's oldest zoos located in Byculla, Mumbai. Referred to as the "Victorian Gardens" during the British era, this zoo includes wild animals such as lions, bears, and hyenas. Additionally, although distantly, you can have the opportunity to observe elephants. Named after Chhatrapati Shivaji Maharaj's adored mother, this zoo is also a perfect destination for bird watchers to explore birds like cranes, peahens, macaws, numerous varieties of vibrant flamingos, etc. A stunning and lush botanical park, the 60-acre Rani Baug in Byculla is home to around 3000 trees, herbs, and blooming plants from over 800 species. This zoo is an excellent destination for those who love nature and animals. It gives you a chance to learn about a variety of plant species like the Rose of Venezuela, the Beggar's Bowl, the Flame of the Forest, the Tree of Heaven, the Cannon Ball, the Indian Banyan, and so much more.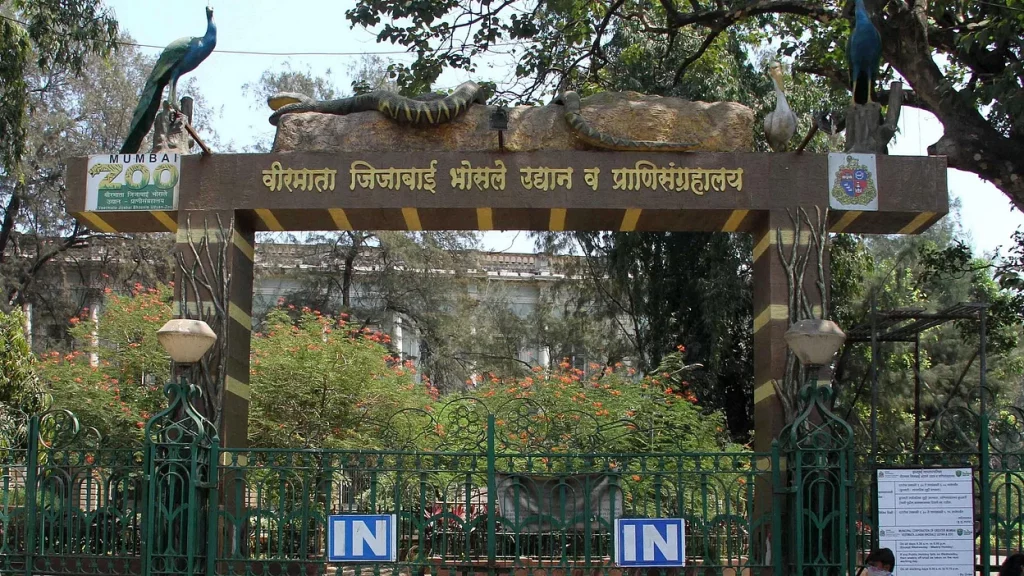 Special Attraction: With a large number of trees, wild animals, and birds, it boasts diverse flora and fauna. The city's sole botanical garden, Veermata Jijabai Bhosale Udyan, and Zoo also include:

Humboldt Penguins
White Crows
African Parrots
Emus
Crocodiles
Hippos
Porcupines
Fox
Address: Railway Station, 91A, Lalbaug Flyover, near Byculla, Byculla East, Byculla, Mumbai, Maharashtra 400027
Timings: 9:00 am – 6:00 pm
Entry Fee: Starting from INR 25
Click here for Veermata Jijabai Bhosale Udyan and Zoo Official Website
Amte Animal Ark
In 1974, this animal ark was built by Padma Shri recipient and social activist Dr. Prakash Amte to accommodate abandoned wild animals. With a variety of species of wild animals and birds, including tigers, leopards, iguanas, and more, this resembles a zoo and serves as a sanctuary for wild animals. A visit to this animal sanctuary is worthwhile since it offers a rare experience of caring for and exploring wild animals closely. In the forest where this ark is situated, all the wild creatures are free to wander without any fear of attack or harm. The best thing about this zoo and sanctuary is that here you can experience great satisfaction by voluntarily caring for the wildlife and helping them. Since the rescued wild creatures need a lot of care, and this place offers you the chance to serve animals, it's a must-visit for animal lovers.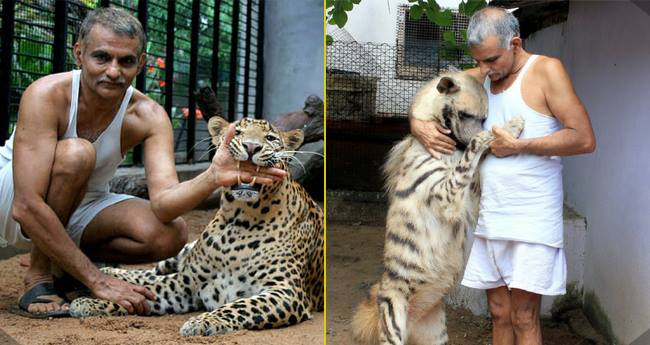 Special Attraction: In addition to that, this zoo is also the home to the following wildlife:

Jackals
Leopards
Jungle Cats
Common Palm Civets
Rhesus Macaques
Sloth Bears
Giant Squirrels
Rat-Tail Langurs
Four-horned antelopes
Black Buck Antelopes
Rat Snakes
Indian Pythons
Crocodiles
Monitor Lizards
Banded Kraits
Peacocks
A Spotted Deer
Porcupines
Neelgai

Address: Hemalkasa, Gadchiroli, Maharashtra 442710
Timings: 8:00 am – 12:00 pm & 2:00 pm – 5:00 pm
Entry Fee: Free
Click here for Amte Animal Ark Official Website
Maharajbagh Zoo
Located in the center of Nagpur, the Maharajbagh Zoo is popular among nature and animal enthusiasts for housing a variety of wild animals. The smallest zoo in India, it has various wildlife, including monkeys, peacocks, lions, leopards, and tigers. Additionally, this zoo is enriched with a variety of herbs, flowers, fragrant plants, and other plants. Inside the zoo, there are picnic spots where you can spend some quiet time with your family and children. Also, it has several amenities, including food stands and restrooms. The finest spot to take your children and spend the full day there is right here. Established by the Bhosle dynasty of Maharashtra, it's a paradise for animal lovers. Numerous schools organize field trips and educational visits to this zoo because of its vicinity. The park's abundance of walking paths and picnic areas makes it a great getaway for families. A few rare plant species are housed in the newly installed botanical garden at this freshly restored zoo in Nagpur.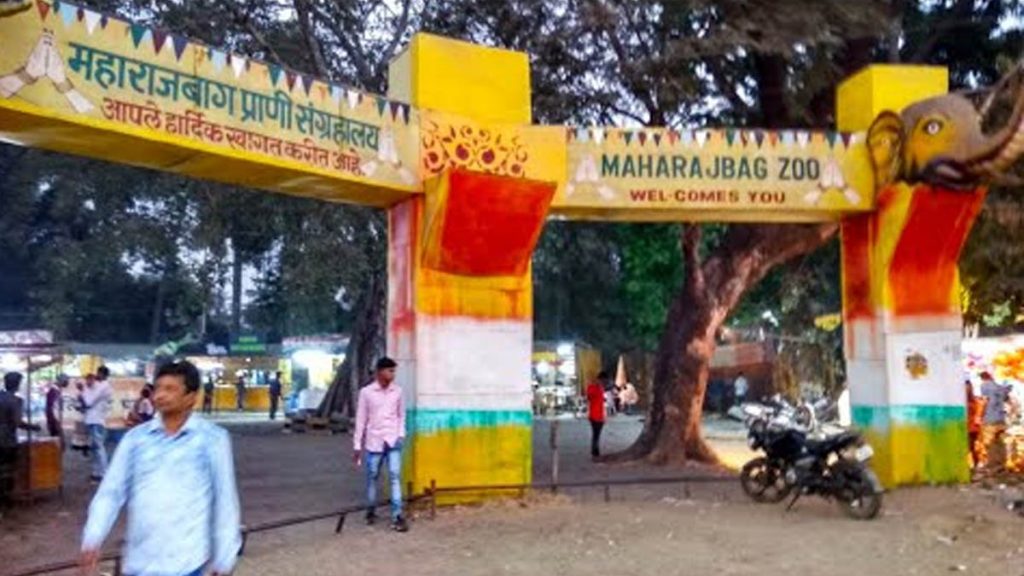 Special Attraction: This zoo includes various animals and birds, including:

Deer
Elephants
Bears
Hippos
Parrots
Hornbills
Hawks

Address: Gorepeth, Nagpur, Maharashtra 440012
Timings: 8:00 am – 6:00 pm
Entry Fee: Starting from INR 10
Click here for Maharajbagh Zoo Official Website
Final Words
These zoos and parks in Maharashtra are home to a wide variety of animals, birds, plants, and other wildlife and are great places to spend your day. A handful of them also offers entertainment, education, and entertaining activities for not only children but also adults. At these zoos, visitors of all ages may have fun. As safari organizers, some of them are also great for taking natural strolls. Moreover, as an animal lover, you can experience immense joy by getting the opportunity to feed orphaned animals. On your upcoming trip, give yourself an opportunity to stop by and visit these amazing animal zoos.
Frequently Asked questions
Which is the best zoo in Maharashtra?
The top two zoos in Maharashtra are Rajiv Gandhi Zoological Park and Gorewada International Zoo.
Which zoos are the best for families with children to visit?
The two greatest places for families with children are the Amte Animal Ark and the Gorewada International Zoo.
Which zoo houses penguins?
Penguins can be found at Veermata Jijabai Bhosale Udyan and Zoo or the Byculla Zoo.
Which is the smallest zoo in India?
The smallest zoo that is home to a sizable collection of animals and birds is Nagpur's Maharajbagh Zoo.