A town of history, nature and culture, Ramanagara is one of the famous tourist places in Karnataka. Situated only about 50 km away from Bangalore, Ramanagara is known by different names including Ramnagaram, Shamserabad, and Closepet. Ramanagara has been a famous spot in India ever since Tipu Sultan ruled it, for nature is gracing this land with abundant beauty and vegetation. Not only does it have a number of monuments, but Ramanagara is also one of India's primary manufacturers of premium silk. If you are someone fascinated with history, silk farming, silk fabrics and nature, your stay at Ramanagara is only going to be more picture-perfect! While you can have a great holiday in Ramanagara, it is also a perfect place for a weekend getaway. There are a variety of best resorts in Ramanagara that are meant to make your holiday relaxing, soothing, and refreshing.
This blog walks you through all the necessary details of Ramanagara resorts packages, amenities, addresses and other details to help you choose the best one for your stay!
Shilhaandara Resort
Hotel Class and Ratings: 5 Star; 3.9/5 Google Reviews
Inspired by the beauty of nature and elegance of climate, Shilhaandara Resort is a perfect getaway for a relaxing weekend. Away from the chaos of fast-paced city life, this resort space makes sure you are thoroughly soaked in peace and serenity. Situated in the naturally decorated landscape of granite rock formations, the property ambiance is inspired by the land's history and culture. If you are someone who has been planning for a perfect weekend getaway near Bangalore, Shilhaandaran Resort shall surely delight you. Give the traveler and adventurer in you a treat with the amazing amenities of this resort:
Swimming pool
Conference and event halls
Adventure sports
Zip lining
Quad biking
Target shooting
Indoor play area
Outdoor play area
Fine Dining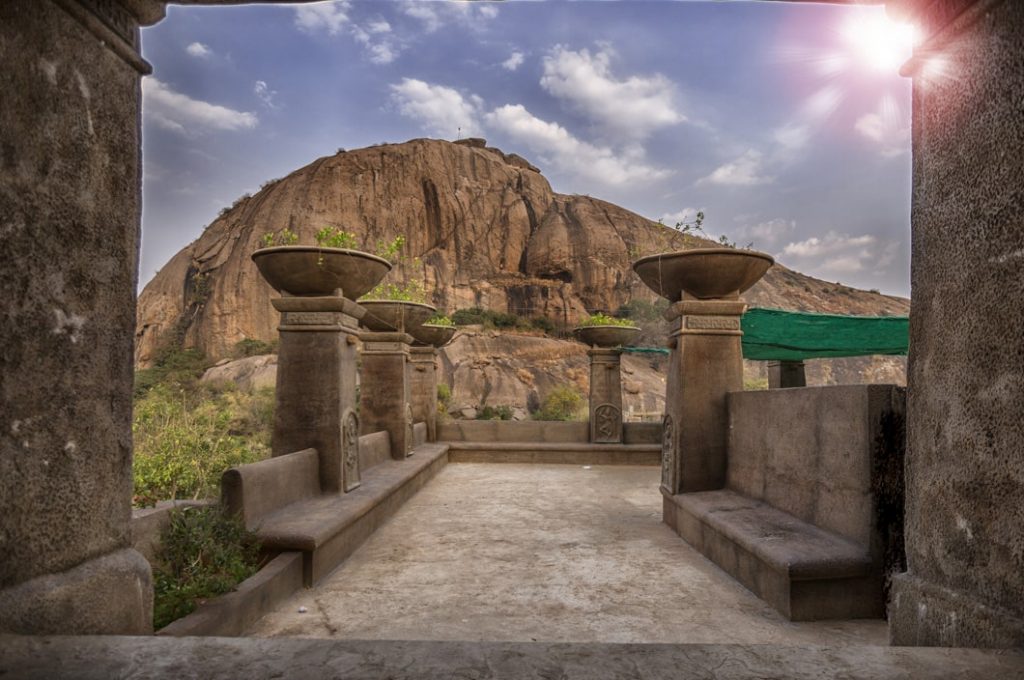 The resort specializes in offering rejuvenating Ayurvedic Spa sessions that you surely cannot miss out on. Enjoy relaxing spa sessions amidst the beautiful surroundings and leave the stress behind you forever!
Address: Survey No.647, Taluka, Magadi – Ramanagara Rd, Kasaba Hobli, Harisandra, Karnataka 562159
Contact for Booking and Enquiry: 098867 87039, 84 9494 9186
Booking Cost: The resort offers Standard rooms, Jacuzzi rooms and poolside rooms starting from the price of INR 5500, INR 6500, and INR 8500 respectively.
For bookings and reservations, you can connect on the Shilhaandara resort Ramanagara contact number mentioned above or confirm your bookings through online resort booking websites and apps like Makemytrip.
Click here for Shilhaandara Resort Official Website
Ravishing Retreat
Hotel Class and Ratings: 4 Star, 4.5/5 Google Reviews
With a picturesque view, lip-smacking delicacies, and airy yet cozy rooms, Ravishing Retreat, one of the best resorts in Ramanagara, is heaven for those who don't like to settle for less. Well, at this resort stay, you will wake up to concerts of purple-rumped sunbirds and enjoy your breakfast in the glass-roof dining. Wouldn't that be dreamy? The essence of a dreamland will kiss your feet in every bit of your exploration. On the lap of nature, your luxury stay will be adorned with exciting activities. Enjoy the nearby hills, greeneries, and water bodies that will stop you at every step to look at with serenity. Make it your destination holiday home where you will find everything; in fact, more than everything you were ever looking for:
Refreshing Sauna
Infinity Pool
Party Area
Adventure Activities for Kids and Adults
Cocktail Bar by Poolside
Multicuisine Restaurant
Live food counters
VIP Service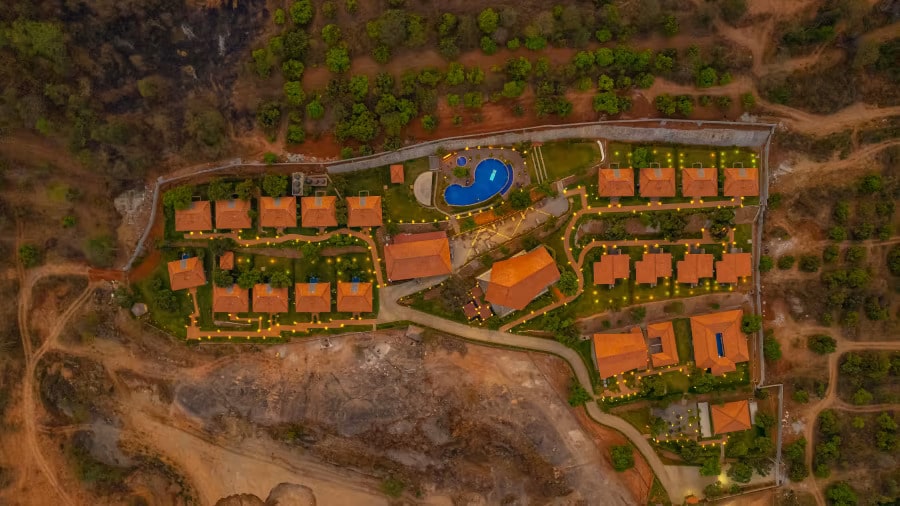 Also, don't miss out on the chance to enjoy the 24-hour fitness centre at the resort and continue toning up your muscles!
Address: Ravishing Retreat Resort, opp. to Kaggalappa temple Channel Road, Manchanabele Road, Harisandra, Karnataka – 572128
Contact: +91 63629 00370
Booking cost: The resort offers different types of rooms such as Plumeria, Heliconia, and Lily. The tariffs for these rooms start from approximately INR.3,540.0/Night, INR 4720.0/Night, and INR 3,540.0/Night respectively. Tariffs, however, are subject to availability and the time of booking.
Click here for Ravishing Retreat Official Website
Vana Resort
Hotel Class and Ratings: 3 Star; 3.5/5 Google Reviews
Vana Resort, a 20-acre spectacular farmhouse, is surrounded by a wide variety of flora and fauna on the way to Kanakapura town. It features old-fashioned cottages and a majestic landscape. Among the best Ramanagara places to stay, it is the perfect destination for adventure enthusiasts because of its gorgeous setting of sprawling lawns and gorgeous woodland environs. Extensive grounds and, well-equipped rooms, enhance the beauty of the Vana resort even more. Here, you can expect an experienced and courteous staff always at your service to make your stay comfortable. Visit this resort to plunge into the pool of happiness and unwind the memories to cherish for life. Vana Resort is one of the best resorts in Ramanagara with activities and has so many amenities to offer the traveler in you:
Exotic regional delicacies
Waterside camping
Bonfire and fun activities at night
Private BBQ set up
Swimming Pool Amidst Palms Mangrove
Sports and Games
Adventure Rope Activities
Activities like Obstacle Courses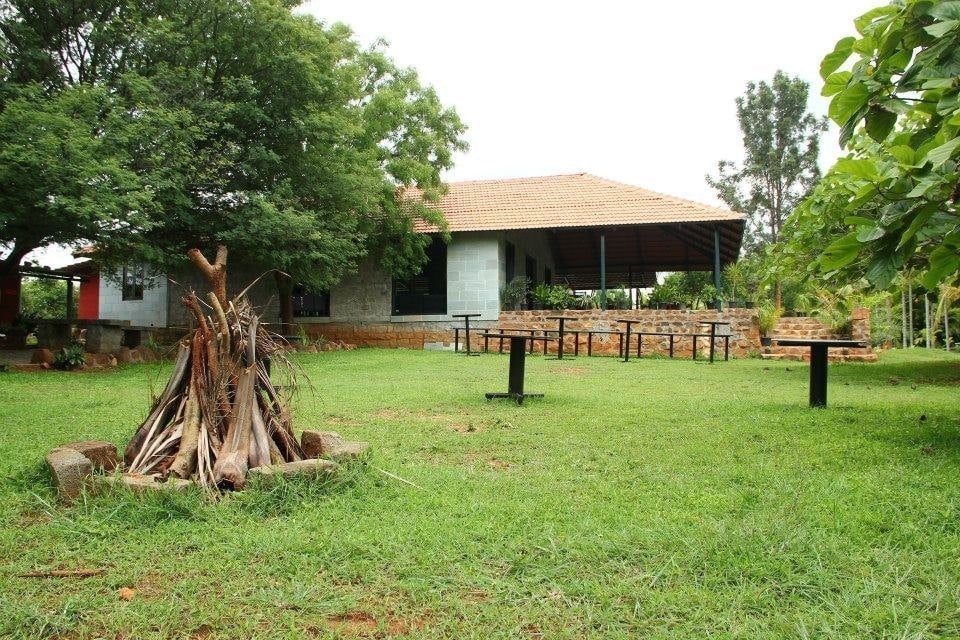 Additionally, to make your stay complete by all means, Vana Resort also welcomes your pets with open arms
Address: Siddapura Bidadi Road, Harohalli Village, Ramanagara, Karnataka – 562112
Contact: +91 96866 94097 | +91 98450 12758
Booking cost: The Vana Resort offers a variety of tastefully decorated rooms that are furnished with all contemporary comforts. The tariff for the rooms starts from INR 4K/Night. Tariffs, however, could vary depending on the time of year you book a stay and the availability of rooms.
Click here for Vana Resort Official Website
Wild Valley Mountain BeAr
Hotel Class and Ratings: 4 Star; 4.5/5 Google Reviews
The rows of vibrant flowers that span the front lawn and pathway at Wild Valley Mountain Bear Resort literally welcome you in a warm and flawless way! The perfect setting for a serene and relaxed holiday, this resort is nestled amidst the vast mountains, crystal-clear sky, and lush greenery. An exciting Kayaking experience is available at half a kilometer walk from the resort, in addition to the many adventure activities inside of the resort. While at this resort which is one of the best homestays near Ramanagara, the tranquil water body at the foothills of a majestic mountain before you, will help you to relax, de-stress & rejuvenate thoroughly. A few amenities featured by this resort are as follows:
Welcome Drink and food
Kids Play Area
Amphitheatre
Bonfire with Music
Indoor & Outdoor Games
Conference Hall
Party & Wedding Lawn
Paid & Complimentary Adventure Activities
Monkey Crawling
Earthquake Walking
Commando Climbing
X Walking
Trekking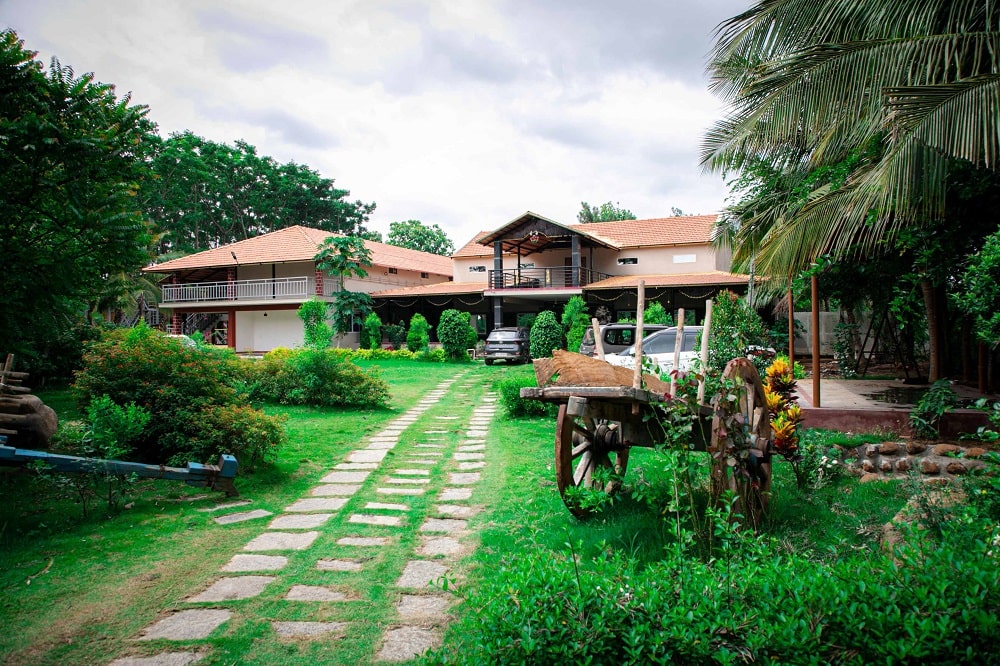 Don't forget to experience the dip into the swimming Pool with a Jacuzzi offered by the resort
Address: Wild Valley Mountain Bear, A Resort in Ramanagara, near SRS Hills, S.R.S Betta, Karnataka – 562138
Contact: +91 75511 55113
Booking Cost: This resort offers a wide range of rooms including Mountain View Camping Stays, Mountain Bear Dorm, and Mountain Bear Villa. The tariffs for these rooms are approximately INR 2000/Person, INR 2500/Person and INR 18000/Person respectively. However, tariffs may vary on the basis of availability, and season.
Click here for Wild Valley Mountain Bear Resort Official Website
Hill View Resort
Hotel Class and Ratings: 3 Star;4.5/5 Google Reviews
A great hideaway with avant-garde amenities and an abundance of natural beauty, Hill View Resort is committed to adding that extra charm to your vacation. By being close to yourself, convert your stay into an ultimate enthralling experience to cherish forever. Hill View Resort is a perfect paradise for those who are fascinated by fun activities like waterskiing, skiing, golf lessons and so on. Get ready to handshake with verdant flora and luxury at this resort property that is exclusively designed to gift you with an experience that you have never had, had before. Explore the wide range of amenities they offer to make your weekend getaway a perfect combination of fun and relaxation:
Multi-Cuisine Restaurant
Steam Bath
Sauna
Jacuzzi
Yoga Zone
Outdoor walking area
Gardens
Conference Room
Indoor & Outdoor Games
Banquets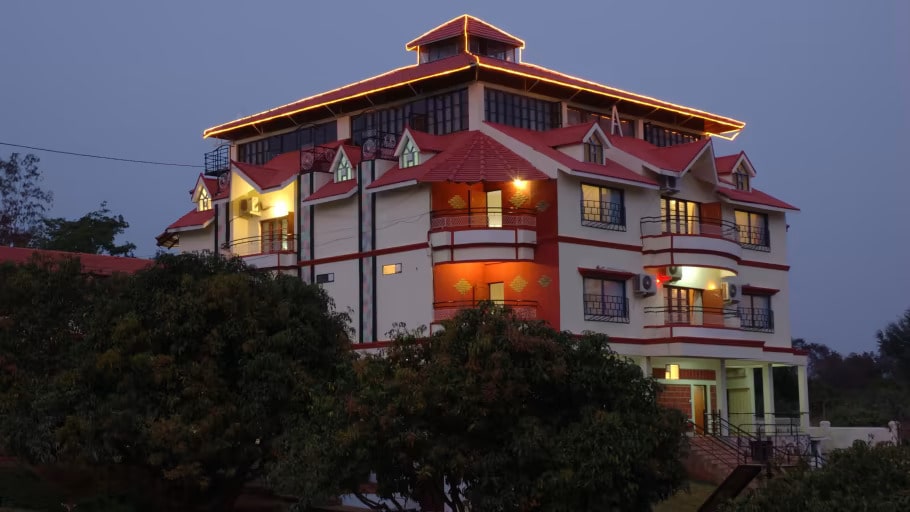 Also, make sure you make the most out of the Health Spa provided by the resort and relax your body and mind completely
Address: 43 Km, Bangalore Mysore Road Basavanapura, Mayaganahalli Post, Ramanagara, Bangalore, Karnataka – 571511
Contact: +91 97409 83701 | +91 97409 83702 | +91 97409 83708 | +91 96112 23089
Booking Cost: The resort features Deluxe Non-AC Rooms, Super Deluxe AC Rooms, and Royal Suite with some room-specific amenities. The prices for these rooms are approximately INR 3500/Night, INR 4500/Night and INR 5500/Night. Make sure you book your stays well in advance if you are planning a weekend getaway during the peak tourism seasons.
Click here for Hill View Resort Official Website
Eagleton The Golf Resort
Eagleton, The Golf Resort, combines magnificence and serenity perfectly. Here, you can see greenery till the end of your sight. Located on Shyanamanagala Cross, Bengaluru, this resort is just 7 km from Wonderla Amusement Park and 19 km from Dodda Aladha Mara, a 400-year-old banyan tree. It is built around a world-class golf course that is meticulously and lavishly designed, making it one of the top five-rated golf courses in the country. They offer warm, spacious, and welcoming rooms with modern amenities. Additionally, you can choose between the golf course or the pool for a spectacular view from your room—furthermore, a private balcony to take it all in. Some of the more exciting amenities offered by the resort are:
A luxurious spa
Crystal clear swimming pool
Indoor and outdoor sports options.
Multiple dining options
Banquet halls
Conference rooms
Kids play area
Well equipped gym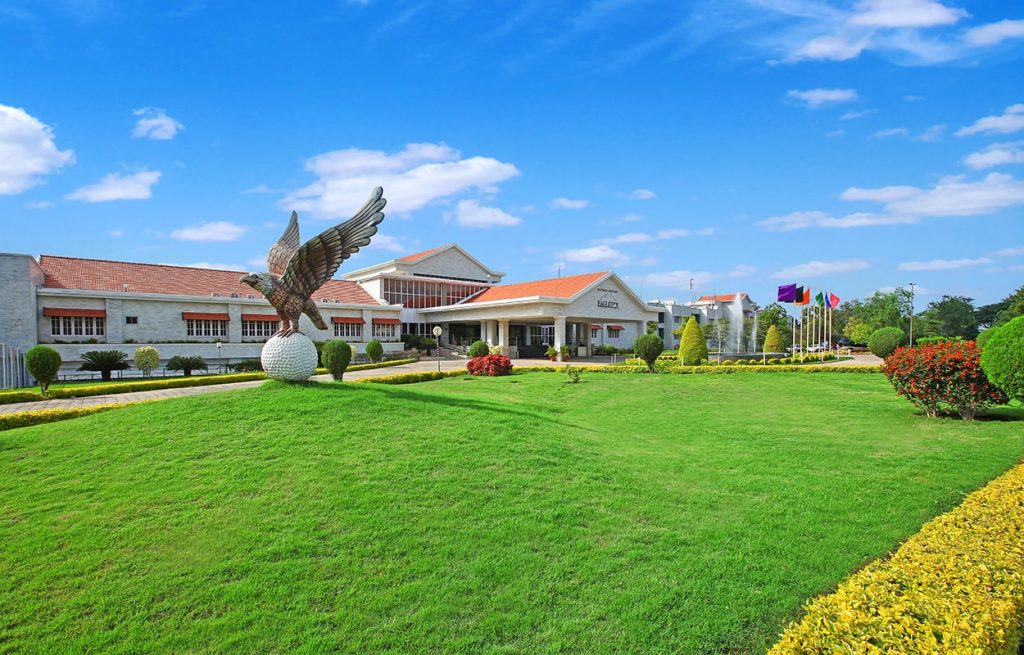 Don't forget; this resort has a world-class golf course. Try your hands on this rich man's game
Address: Shyanamangala Cross, Bidadi, Bengaluru, Karnataka 562109
Contact: 080 2263 2222
Booking Cost: This resort offers a wide range of rooms that includes Standard rooms, Deluxe rooms, and Executive suites, and the tariffs for these rooms are approximately INR 5k, INR 6k, and INR 7k, respectively.
Click here for Eagleton The Golf Resort Official Website
The Gari Resort
Looking for a resort with a great atmosphere and action-packed adventure activities to try with your friends and colleagues? The Gari resort is the one you should try. It is surrounded by gardens, groves, trees, and the constant chirping of birds that offers acres of greenery, calmness, and tranquillity. The Gari resort, close to Bidadi and 50 kilometers from Bangalore, provides clean air, a beautiful setting, and excellent service without breaking the bank. With the option to create themes and designs that can be changed to suit your every need, this destination is special for outdoor weddings or events. The resort offers different packages, like day outings, camping, and a good stay there. Charges will be as per your selection, but the icing on the cake is the recreational activities it offers the visitors. Excited to know more? Keep scrolling down!
Zipline
Horse ride
Pipe Bridge
Burma Bridge
Wood Cross
PG Ladder
Commander walk
Multi Vine
ATV Quad Bike Ride
Unstoppable Cross Bridge
Wood Cross
Single line Bridge
Burma Bucket
Triangle
Commando Work
Pottery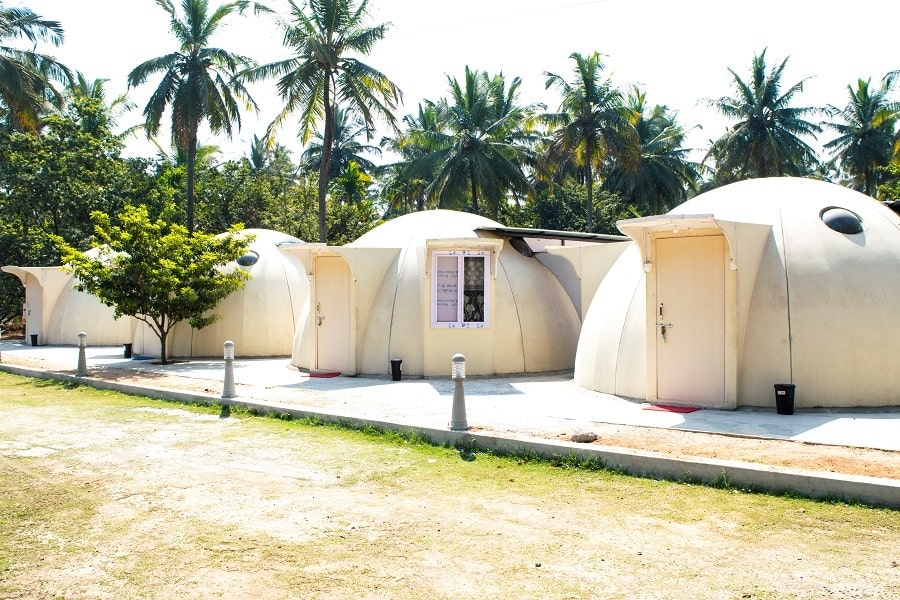 Try your hands on Pottery and mesmerize the child inside you
Address: No 211 Banandur village, Ittamadu, Post, Bidadi, Karnataka 562109
Contact: 096065 04545
Booking Cost: This resort has different packages like day outings, camping, and a proper stay. Charges will be as per your selection. The price range for the day outing package is around INR 1500 to INR 1700. The prices for stay at rooms range from INR 2000 to INR 3000. For camping, the price is around INR 3000. For more information, please visit the resort's website. Click here.
Click here for The Gari Resort Official Website
Valley Vibes Resort
Want to spend time in nature? Book this relaxing stay experience at Valley Vibes Resort and take a deep breath in the peaceful atmosphere. Located in the lush green mango farms with mountains on all sides gives a stunning view to your mind and soul. It is a perfect weekend getaway with your family, friends, or colleagues. Besides your stay experience at the resort, you can also participate in many fun-filled activities in your package. Isn't it great? Want to know more? Check what all things are there for you!
You can enjoy your heart out with the adventure activities such as
Rock Climbing
Trekking
Boating
Campfire
Rain Dance
Apart from that, there are also several other amazing amenities:
Swimming pool
Amphitheatre
Lip-smacking dishes
Indoor and outdoor games
Kids Friendly games
Open Air Theatre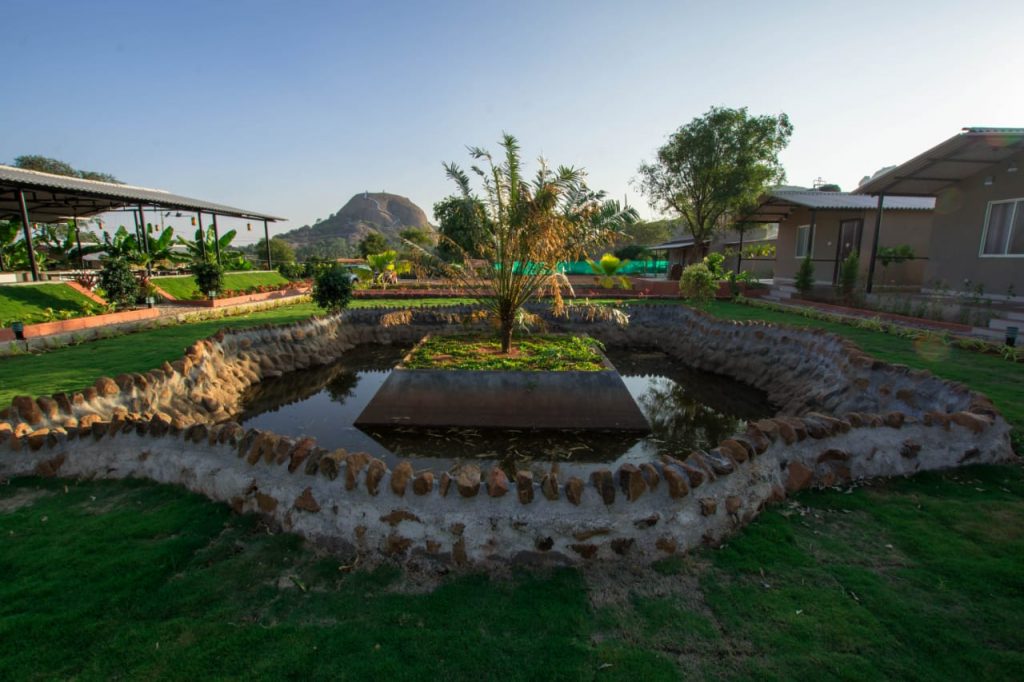 And for all the pet parents over there, this resort is pet friendly. Yes! You can bring your pet babies too and can give them a break
Address: Averalli, Near SRS Betta, Gaṇa Sangha, Karnataka 562138
Contact: 096325 57304
Booking Cost: This resort offers two types of packages one is a day-out package, and the other is a stay package. The tariff for the Day-out package is around INR 1000, and Stay-in packages range from INR 2000 to INR 3000. For more information, please visit the resort's website. Click here
Click here for Valley Vibes Resort Official Website
Conclusion
Ramnagara is a land blessed with nature's beauty, amazing climate and finest stay options. If you have been looking for day-out resorts near Ramanagara, this blog sure has helped you out for good. It's really the best time of the year now to unleash the explorer in your and head toward Ramanagara and have one of the best short trips you ever had! Aren't you ready already?