Nestled 60 km away from the city of Bangalore is the Nandi Hills. The town earns its name from the famous Shiva shrine of Bhoga Nandeeshwara Temple, accompanied by his consort Parvati and ride Nandi. It is thronged by visitors, nature lovers and adventure lovers, especially on weekends, who come to experience its scenic beauty, trek, cycle and indulge in adventure sports like paragliding. The saying "On Cloud Nine" fits true for Nandi Hills. Trekking to the top of the hills offers the breathtaking sight of the sun setting into the ocean of low-lying clouds. If you are obsessed with wanderlust or a habituated trekker, then Nandi Hills is the location for you. So, are you all set to pack your baggage and ready to experience heaven on earth? If yes, then read this blog until the end to get a sneak peek into the best resorts in Nandi Hills top to have a splendid time.
Here you will find information about the best accommodations in Nandi Hills, pricing, booking details, amenities, address, and more
Discovery Village Nandi Foot Hills
Hotel Class and Ratings: 4-Star; 4.3/5 Google Reviews
An architectural wonder and a nature lover's paradise, Discover Village presents visitors with the ultimate destination for comfort and peace. Located 50 km from the garden city of Bangalore, it is one of the widespread nature resorts near Nandi hills that provides a panoramic view of the valley. Discover Village resorts welcome tourists to its uniquely designed architecture that is eco-friendly and sustainable, made using upcycled materials. With minimalistic indoors to enchanting outdoors makes, it is the perfect nature resort near Nandi Hills to rejuvenate your spirit and soul. Additionally, the elaborate balconies and neat rooms make it an ideal escape for couples, families and friends in the greenery and an excellent destination for corporate meetings, weddings, and much more.
That's not it; here is a glimpse of all the luxury amenities available at the Discovery Village resort hotel:
Fun activities like bonfires and drum circles
Wildlife safaris at Kanakapura and Kabini
Bird-watching boat cruise in Kabini
Camping in the hills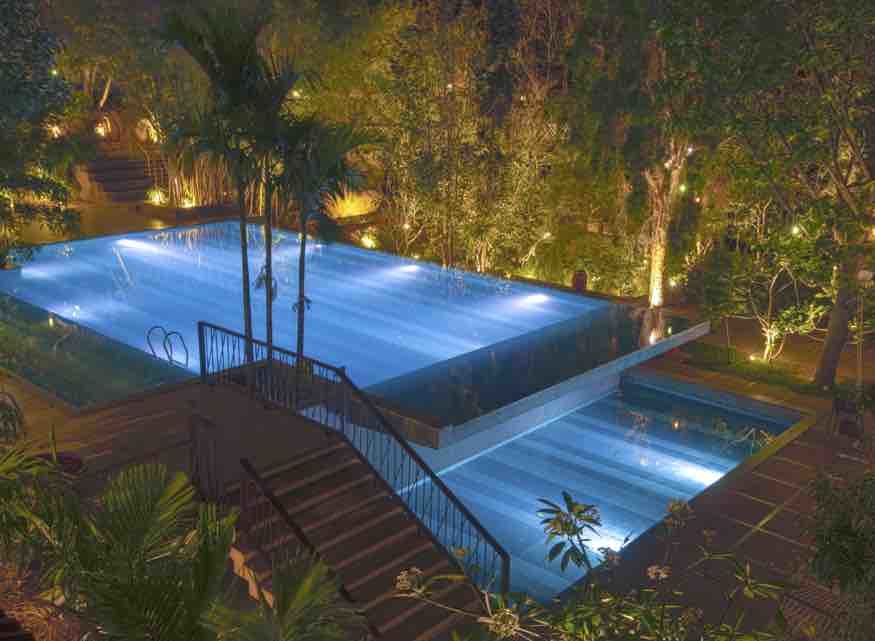 If you want to experience the complete joy of the outdoors and greenery, go for a long cycling ride and do not forget to put down your phones and immerse yourself in nature
Address: Foot Hills, #110/8, Krishnappa Layout, Lalbagh Road Cross, next to Kanive Nandeeshwara Temple, Nandi Hills, Bangalore, Karnataka 562103
Contact for Booking and Enquiry: 080 471-66164
Booking Cost: The prices vary with respect to the location you opt for and the suite you select. You can directly make the bookings by calling the mentioned contact number or make your online bookings through MakeMyTrip. You can also request more details about pricing and Nandi Hills resort booking from the resort management.
Click here for Discovery Village Nandi Foot Hills Resort Official Website
Windflower Prakruthi Resort & Spa
Hotel Class and Ratings: 4-Star; 4.0/5 Google Reviews
Are your ears longing to hear birds chirping and feel the calmness of nature away from the usual hustle of cities? Windflower Prakruthi Resort & Spa stays true to its name. With elegant architecture mixed with contemporary designs, it is no less than a picture of a Bollywood movie. This amazing retreat is spread across 3 hectares of land, located 7 km from the Chikkajala fort. Windflower Prakruthi nature resort in Nandi Hills prides itself on its elaborate bistro or informal bar with open-air seating to relish exotic drinks while reading your favorite novel. It is ideal for you if you are seeking a complete recreational escape from city life. A distinctive feature of the resort is its exquisite private gardens to rejoice in the beauty of nature to the fullest. On the other hand, each suite has separate living rooms while the villas are a view to behold for their private pools. Do you want to sneak peek into the amenities? Check out below:
Toiletries designed using Ayurvedic ingredients
Mouth-watering and soul-soothing cuisines at the in-house restaurant
Indoor and outdoor activity courts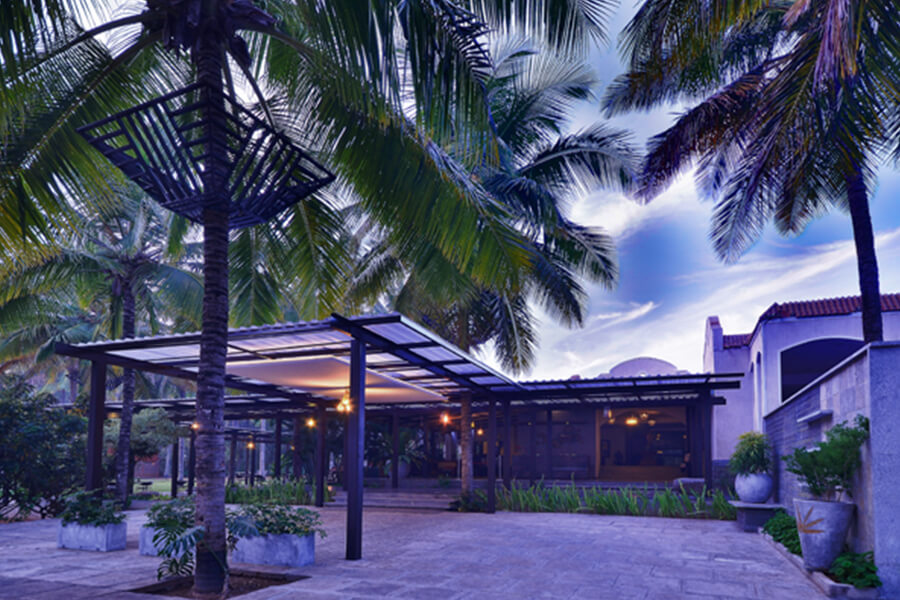 Don't forget to indulge in 20 different treatments at the spa, including Balinese massage therapy and Ayurvedic massage
Address: Plot No. 12 A-1, Hegganahalli Village, Kundana Hobli Devanahali Taluk, Karnataka, Bangalore 562110
Contact for Booking & Enquiry: +91 99014 46666/ +91 80408 42222
Google Map Link: https://bit.ly/3yo5cEX
Booking Cost: The prices may vary as per the accommodation chosen. To book your accommodations and get additional information, email reservations@thewindflower.com. The resort also accepts group and corporate bookings.
Click here for Windflower Prakruthi Resort & Spa Official Website
Mount Palazzo Resort
Hotel Class and Ratings: 3-Star; 3.7/5 Google Reviews
Located 5 km in proximity to the Bhoga Nandeeshwara Temple and 13km away from the Nandi Hill Caves, Mount Palazzo exudes peace and tranquillity. Mount Palazzo is a spectacle of beauty and aesthetic architecture. The suites are spacious with eloquent lighting and an outside pool surrounded by the greens of Nandi Hills. The luxury resort in Nandi Hills is nestled in the tropical landscape of the mountains, offering surreal views of the immaculate settings. With a separate place to indulge in fitness, adventure sports, and bonfires amidst nature, make it the perfect escape from the everyday routine. That makes it an ideal location for couples, families, and friends for a weekend escapade and the most sought location for celebrations. Furthermore, the appetizing food and a vast menu with authentic delicacies are the cherry on the cake to make you spend your weekend/ vacation in complete joy and fun.
Are you wondering why you should choose this as your stay at this Nandi Hills resort? Check it right here:
4,000 sq ft of swimming pool
Multi-cuisine restaurant
Vast choice of alcoholic drinks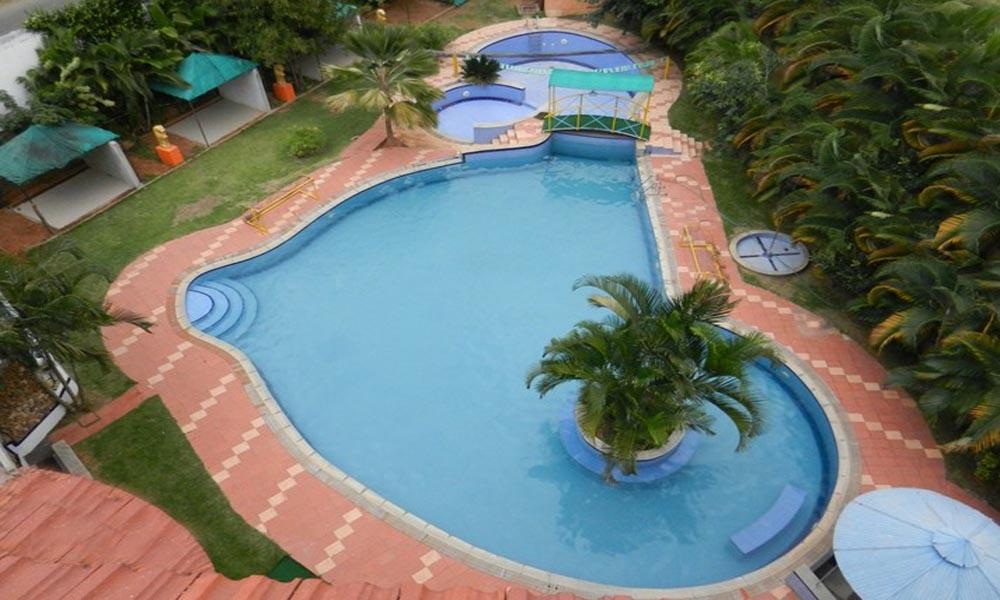 Enjoy the range of outdoor sports like water polo, badminton, throwball, basketball and volleyball, etc. and have a great time with your loved ones!
Address: 42/1, Karahallo Cross, Nandi Hills Main Road, Karnataka, Devanahally 562110.
Contact for Booking & Enquiry: +91 63666 91931/ +91 70193 64547/ +91 99164 01980/ +91 97423 88312
Booking Cost: The pricing varies according to the suite or villa options. The accommodation charges start at INR 2,800. You can drop an email at reservations@mountpalazzo.com for bookings and the resort's room booking team shall get in touch with you.
Click here for Mount Palazzo Resort Official Website
Signature Club Resort At Nandi hills
Hotel Class and Ratings: 3-Star; 4.2/5 Google Reviews
Signature Club Resort is your destination if you are all in for a rejuvenating experience. The place is an excellent confluence of luxury and greenery. Along with it, it also keeps alive the aesthetic beauty of nature with contemporary architecture. It is an acclaimed hotel near Nandi Hills for family getaways and is also a famous resort near Nandi Hills for couples to unravel the experience of luxury and superior amenities. Signature Club Resort is located only about 4 km from the Devanahali Fort with an extended stretch of trees and picturesque sights. But did you know what is more startling other than the scenic spirit? There is a range of amenities, from an indoor gymnasium and elaborate bar to excellent sitting areas all over the resort, sunset-watching zones, etc. Moreover, an expansive dining options from a café to an international restaurant, the resort has a lot in store to explore during your marvelous stay.
Check below what you can expect in the resort during your stay:
Badminton court
Indoor swimming pool
International restaurant serving delicious cuisines
Banquets for parties, conferences, and meetings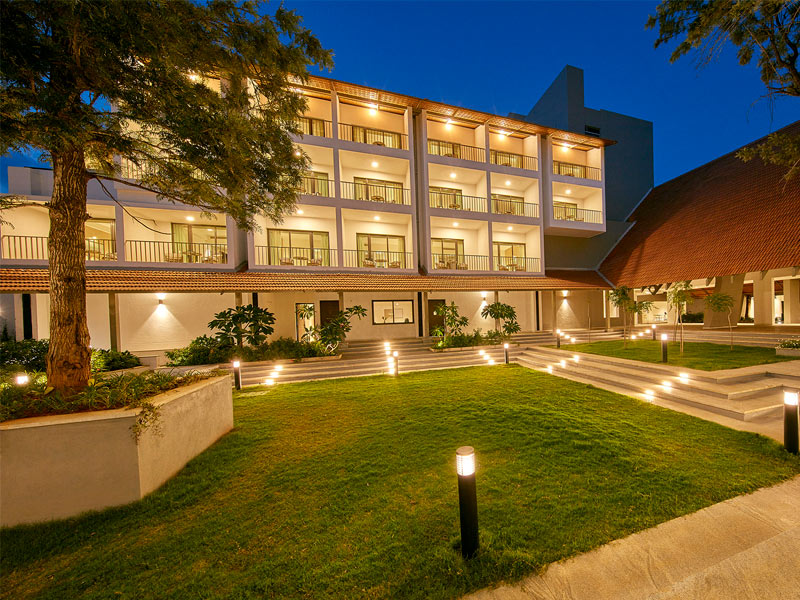 Have a fun time with your friends and family at the resort's eloquent cocktail bar alongside a keenly decorated wide terrace
Address: Brigade orchards, near NH 207, located close to International Airport, Devanahalli, Karnataka 562 1010
Contact for Booking & Enquiry: 080 6980 2000
Booking Cost: The room prices vary according to the room size and class you opt for. The basic room starts at INR 4600 per night and ranges up to INR 8000 per night. The prices may also change depending on the season in which you are booking. You can book your rooms online through the website by sending an email to reservations@signatureclubresort.com.  
Click here for Signature Club Resort Official Website
Silver Oak Resort
Hotel Class and Ratings: 3-Star; 3.9/5 Google Reviews
Located in the exotic landscape of Nandi Hills is the Silver Oak Resort, a scenic experience of landscaped gardens and lush greens. It is located 11 km in distance from the Akkayamma Temple and 21 km far from Kempegowda International Airport. With enchanting hospitality and staff, this resort near Nandi Hills is a dream come true for all nature lovers and travel enthusiasts. It is a perfect escape for couples to spend quality time away from the city; Silver Oak Resort in Nandi Hill welcomes visitors to its charming rooms and suites. The outdoor pool and lavish restaurants on the garden terrace are a pleasure to the eyes. Moreover, the nature resort provides the perfect ambiance for rejuvenation, healthy living and indulgence in adventure sports.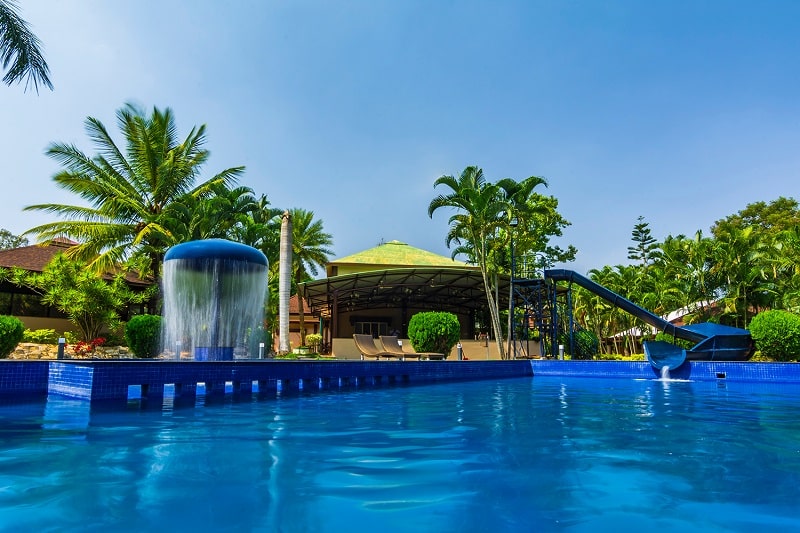 Are you excited to know what more is in store for you at Silver Oak Resort? Sneak peek below
Jogging trail for fitness lovers
Billiards and table tennis courts
Quiet and calm gardens for meditation
Cottage-style rooms with sitting areas and TVs
Address: Doddaballapur Main Road, Rajanukunte, Karnataka 560 064
Contact for Booking & Enquiry: +91 78490 22154
Booking Cost: The prices of cottages and suites vary based on the number of nights, type of rooms, and time of booking. The prices are affordable, starting at INR 3000 per night. Visitors can make reservations online through the website or through MakeMyTrip.
Click here for Silver Oak Resort Official Website
Clarks Exotica Resort
Hotel class and ratings: 5 star; 4.3/5 Google reviews
Snuggled between 70 acres of lush greenery, this destination offers an experience tailored to your pleasure. The Clarks Exotica Resort & Spa, only 5 minute's drive from the Bengaluru International Airport, is the vast canvas of space that accommodates the break you have been waiting for in a city. It is a place of luxury, comfort, and rejuvenation with a stunning view of the beautiful Nandi Hills. The resort has three dining rooms, all of which have gorgeous pool views. The resort offers multi-cuisine delicacies in their specialty restaurants, and it has a buffet, too, with multiple options.
Are you excited and know more about the amenities? Check this out:
A world-class spa with some expert therapists to destress you.
Crystal clear swimming pool with many fun activities for your kids.
Many indoor and outdoor gaming options, like basketball, billiards, video games, and many more.
Banquet hall for social gatherings, meetings, and weddings.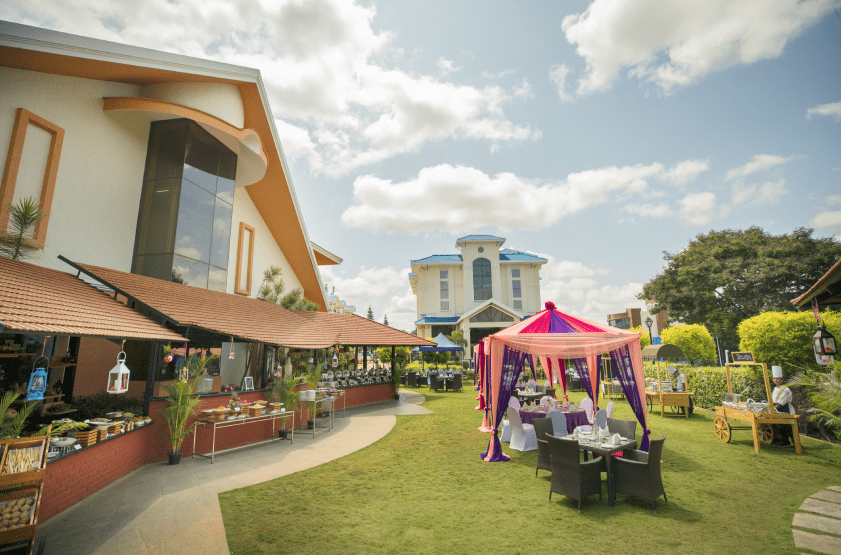 Not to forget, for all those fitness freaks, who don't want to miss their fitness regime even for one day, Clarks Exotica has a well-equipped gym to give you a guilt-free holiday
Address: Devanahalli Road, Hollywood Junction, Sadahalli Post, Swiss Town, Bengaluru, Karnataka 562110
Contact for Booking & Enquiry: 08071 777 000
Booking Cost: The prices for the room starts from INR 9500, depending on the type of room you select. They have many options as per your requirement. You can book directly from their website https://clarksexotica.com/ or through MakeMyTrip.
Click here for Clarks Exotica Resort Official Website
Fantasy Golf Resort
Hotel Class and ratings: 3 star; 3.8/5 google reviews
Are you tired of being in city life? And want a break from a monotonous routine? Fantasy Golf Resort is the place for you. It is 6 km from the famous Jain Mandir, around 30 km from the Nandi hills and 10 km from the ancient Tipu Sultan Fort. The well-appointed rooms here have modern amenities and ensure a relaxing stay. Surrounded by a scenic landscape, this resort has a mini golf course and swimming pool. The highlight of this resort is the food served over here.
Want to know more about the resort? Read on!
Banquet halls for weddings, receptions, and corporate team-building activities.
Indoor and outdoor sports are available here, like table tennis, cricket, 5-aside football, video games, and many more.
An in-house Dj to make your night an electrifying one.
This resort is kid friendly too.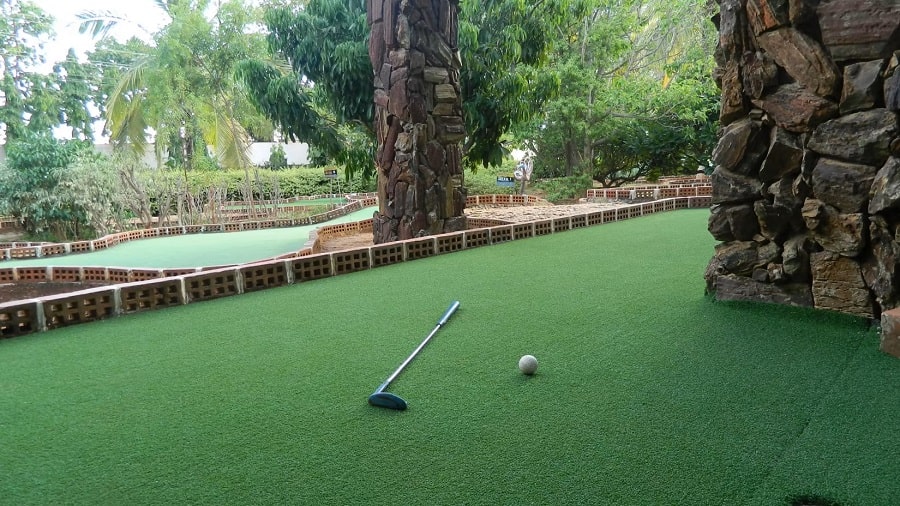 This resort is perfect for budget travelers who can have a memorable holiday economically
Address: Opposite ITC(McDonalds), Doddajala Post, Devanahalli-Bangalore 562157
Contact for Booking & Enquiry: 099720 92701
Booking Cost: They have deluxe rooms and cottages for which prices vary from INR 4000 to INR 6000 respectively. You can book your room using the resort's website link click here or through MakeMyTrip.
Click here for Fantasy Golf Resort Official Website
Angsana Oasis Resort
Hotel Class and ratings: 3 star; 4.2/5 Google reviews
Located on Doddaballapur Main Road Bengaluru, Angsana Oasis Resort is one of the best resorts near Nandi Hills, surrounded by palm trees. It allows you to escape from everyday life and transports you to a magical luxuriant space. It makes sure to rejuvenate your mind and soul in a tranquil setting. During your stay in this resort, you can visit some beautiful tourist attractions nearby. The famous Kinvah vineyard is 5.6 km away, and the ancient Nandi hills are around 30 km from the property. The resort offers accommodation in different categories, including suites and executive rooms.
Check out what more you can expect from Angsana Oasis! Keep scrolling down!
Luxurious spa for your relaxation with expert therapists.
Playground and swimming pool so your kids can have a wonderful time there.
Suites with a private jet pool, terrace, and steam cubicle.
Well-equipped gym and yoga center for all health-conscious people.
Cycling, tennis, and badminton.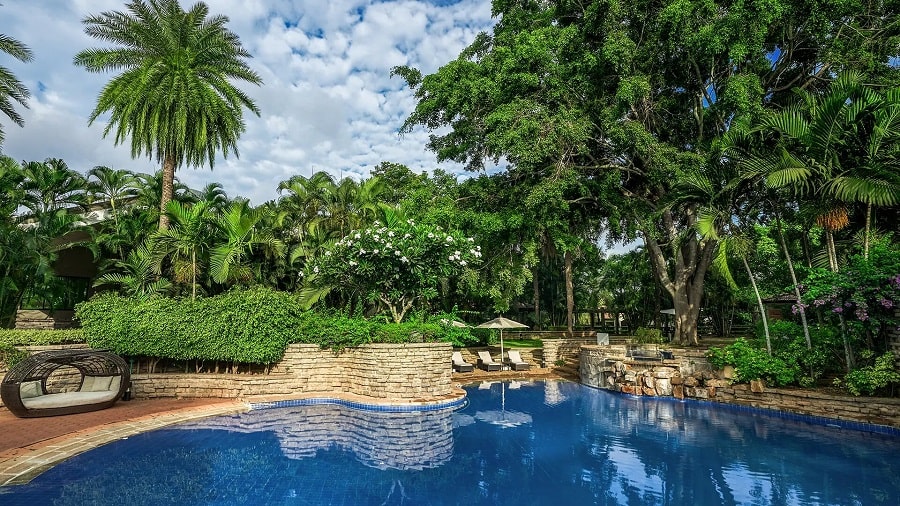 Angsana is among the few resorts near Nandi Hills, with fine-dining cabana-style restaurants serving barbeque. They offer multi-cuisine delicacies along with alcoholic and non-alcoholic beverages
Address: Main, Doddaballapur Main Road, Northwest County, Adde Vishwanathapura, Rajanukunte, Karnataka 560064
Contact for Booking & Enquiry:098452 11036
Booking Cost: They have accommodation in different categories that range from INR 10k to 20k. You can book your room using the resort's website link click here or through MakeMyTrip.
Click here for Angsana Oasis Resort Official Website
Shathayu Resort
Hotel Class and ratings: 3 star; 4.3/5 Google reviews
The tranquil retreat is spread across 4.5 acres of land 45 kilometers from Bangalore; Shathayu Resort is surrounded by hills on three sides and a lake right in front! Their concept revolves around "Optimum Healthcare" in creating the healthy society we all desire, with the tagline, HEAL TOGETHER LIVE FULLER. With over 120 years of experience, they are pioneers in Ayurvedic Therapies such as Panchakarma. They offer a variety of relaxing treatments that combine traditional ayurvedic practices and yoga, as well as several rejuvenation programs and therapies customized to each individual. Take time to care for yourself physically, emotionally, and spiritually with rejuvenation, detox, de-stressing, weight loss, and pain management. So it's like hitting two birds with one stone, vacationing, and getting treatment in one place.
Some of the highlights of this property are:
Fun activities include cycling, hiking, nature walks, and indoor and outdoor games.
Camping feels with bonfires and delicious food
Vegan cuisine.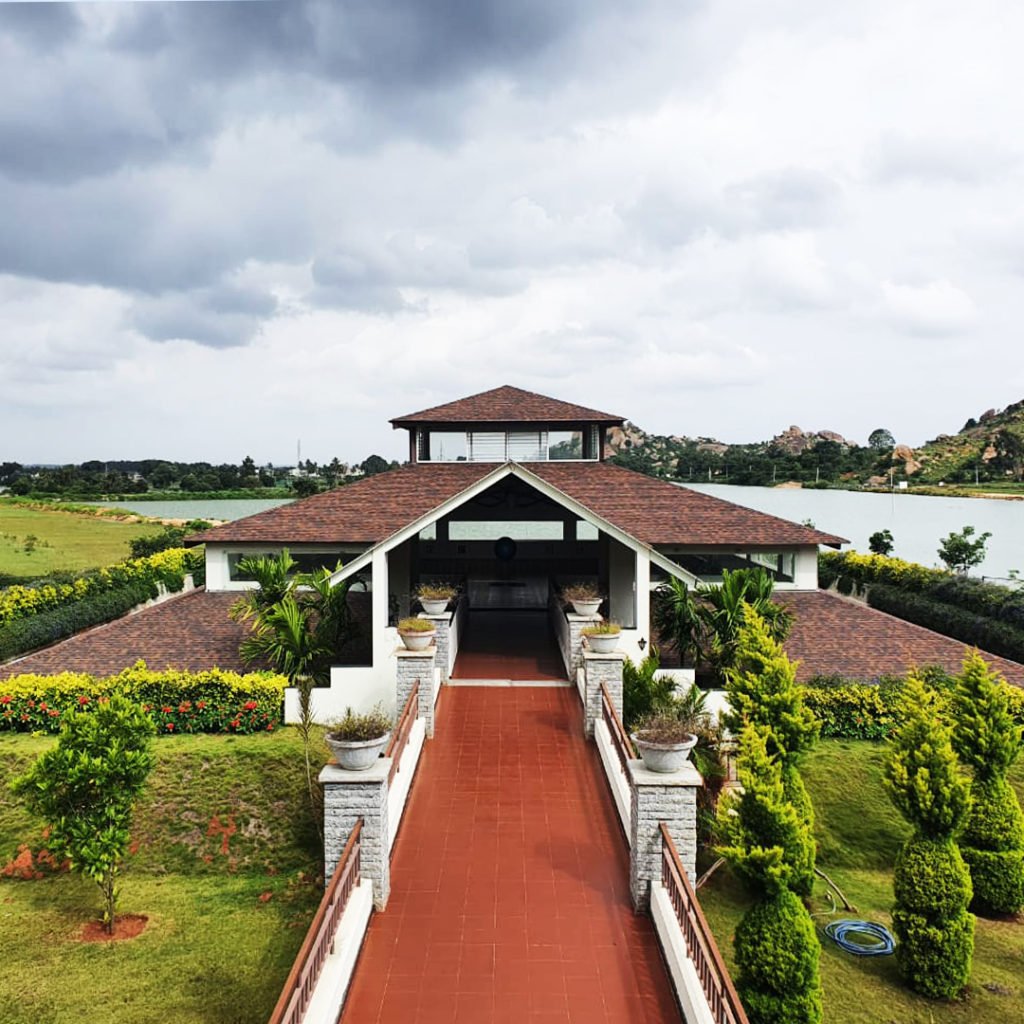 Here you can experience beautiful sunrises and sunsets with Indian and continental cuisine. It is one of the few resorts near Nandi hills that are perfect for patients who have paralysis, migraine, infertility, asthma, and many more. The resort has ayurvedic treatment for many health issues. Nature has healing power, so give a break to regular hospital visits and try something different
Address: S.No.261, Avathi, Village, Devanahalli, Bengaluru, Karnataka 562110
Contact for Booking & Enquiry: 088841 33300
Booking Cost: They have different packages as per your requirement. For more information, visit their website. Click here
Click here for Shathayu Resort Resort Official Website
Conclusion
Nandi Hills in Bangalore is one of the top vacation and weekend hubs for couples and families. The resorts at Nandi Hills top are known for their luxuriant space and amenities, making them an ideal option for rejuvenation. Surrounded by the serene climate and gorgeous weather, it is undoubtedly a visual marvel and soul-soothing escape for recreation. So, if you have already planned or are planning for a soulful experience, pack your bags and book your stay at exotic Nandi Hills resorts to experience heaven on Earth!