Introduction
Are you caught between selecting beaches in Maharashtra for your holiday?
If yes, here's an answer to your question along with, why it would make your holiday a perfect one!
Nestled in the Ratnagiri district of Maharashtra, Dapoli is best known for its coastline tourism. This coastal stretch posses densely covered farms of coconuts, and forests, that add an extra element of beauty to the reverberating beaches in Dapoli. Apart, from the scenic sea views, Dapoli has gained popularity for its lush green ambience, historical significance, ancient monuments, water sports and of course its authentic seafood.
Come, let's explore the beauty, adventure and refreshment that the beaches of Dapoli have to offer you!
Distance from Major Cities
The following chart mentions the distance between Dapoli and some of the major cities in Maharashtra, via roadways:
| | | |
| --- | --- | --- |
| From | Distance (in km) | Via |
| Pune | 183 | MH SH 70 |
| Mumbai | 218 | NH 66 |
| Nashik | 361 | NH160 and NH 66 |
| Aurangabad | 428 | Aurangabad – Ahmednagar – Pune Highway |
| Nagpur | 900 | Nagpur – Aurangabad Hwy |
How To Reach Dapoli
Depending on the starting point of your travel, you may select the most convenient means of transport toward Dapoli. You can choose to travel by bus, train or flight depending on the availability of time and budget.
By Flight: The nearest airport to Dapoli is Ratnagiri Domestic Airport. It is about 127 km away from Dapoli, making it a bit inconvenient for tourists. However, there are flights available from Mumbai, and Pune airports at a higher frequency. If you choose to travel by air, make sure you book your tickets in advance to avoid high fares. Usually, the flight charges range between Rs. 3000 to Rs. 8000 depending on the boarding point and the time of ticket booking.
By Train: The nearest railway station to Dapoli is the Khed Railway Station. It is about 30 km away from Dapoli. There is good connectivity between Khed and other major cities of Maharashtra. Also, almost all trains stop at the Khed railway station, making it very convenient for tourists. There are regular trains running toward Khed station namely Ratnagiri Pass, Dadar Sawantwadi Spl, Ahmedabad Madgaon Spl, Ernakulam Ltt Spl, Mandovi Exp, Matsyagandha Exp, etc. Though the starting points of the trains may vary, these trains do have stops in some of the major cities in Maharashtra depending on the respective routes. Travelling to Dapoli by train is a travel treat in itself for the beauty it has to offer! The train fares cost Rs. 1500 to Rs. 3500 or more depending on the boarding point, time of ticket booking and the route is chosen.
By Bus: The Maharashtra State Road Transport Corporation (MSRTC) buses run toward Dapoli, at regular schedules from almost all cities in Maharashtra. Apart from that, there is also the availability of private luxury buses from Mumbai, Pune, Aurangabad, Kolhapur, etc. Travelling by bus is probably the most convenient option to reach Dapoli. The buses are direct, making the travel hassle-free. The bus fares start from Rs. 400 depending on the boarding point and the route chosen.
What is the best time to visit?
The best time to visit Dapoli is during the winter and the beginning of the Monsoon. Tourism is at its peak during the months of October to March. The climate is stable and pleasant for sightseeing, water sports, exploring and beach visits.
It is also recommended to visit Dapoli beaches between June and August if greenery is something you love! Dapoli is decorated with lush green forests and trees during these months and it's a complete experience in itself. However, it is to be noted that the monsoon rains are heavier in the region than in any other place in Maharashtra.
Best Places to visit in Dapoli
Dapoli is one of the most popular coastal hill stations in the Konkan belt of Maharashtra. Here is a list of the best beaches in Dapoli that are all unique in a way and promise to make your holiday the best one.
Karde Beach
Situated at the northern end, Karde beach is a major highlight of the Dapoli region. Known as the best beach near Dapoli, it is highly scenic and has a refreshing natural setting. The coastline is graced with soft silver sand for you to walk along the 4 km stretch of this beach. It is less crowded and often visited by peace-loving tourists who prefer to have a relaxing beach holiday.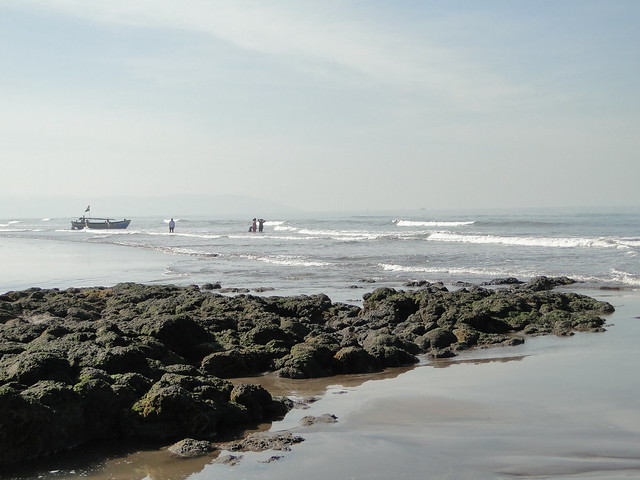 Major Highlights: Karde beach, Dapoli is a serene place. It is best known for dolphin watching, bird watching, swimming, site-seeing, photography, and relaxing stays. There are a number of exotic resorts in the vicinity that offer comforting accommodation and a set of luxury amenities.
Tourism activity: Tourism is less active at Karde beach making it the least crowded beach in Dapoli.
Places to eat & stay: There are a few restaurants and cafes near the beach that are famous for seafood. Hotel Kinara is one such place that is known for its best food, amazing ambience and also good stay options.
How to reach: Karde beach is about 13 km away from the city of Dapoli. It can be easily reached by local buses, auto-rickshaws or by hiring a cab.
Murud Beach
Situated in the Murud village of Dapoli town, Murud beach is one of the most popular beaches in Maharashtra. Known as the black sand beach of Maharashtra, it has a 1.7 km long coastline. It is truly a mesmerising experience to be amidst the gushing sea waves, green hills and the glitter of the sun!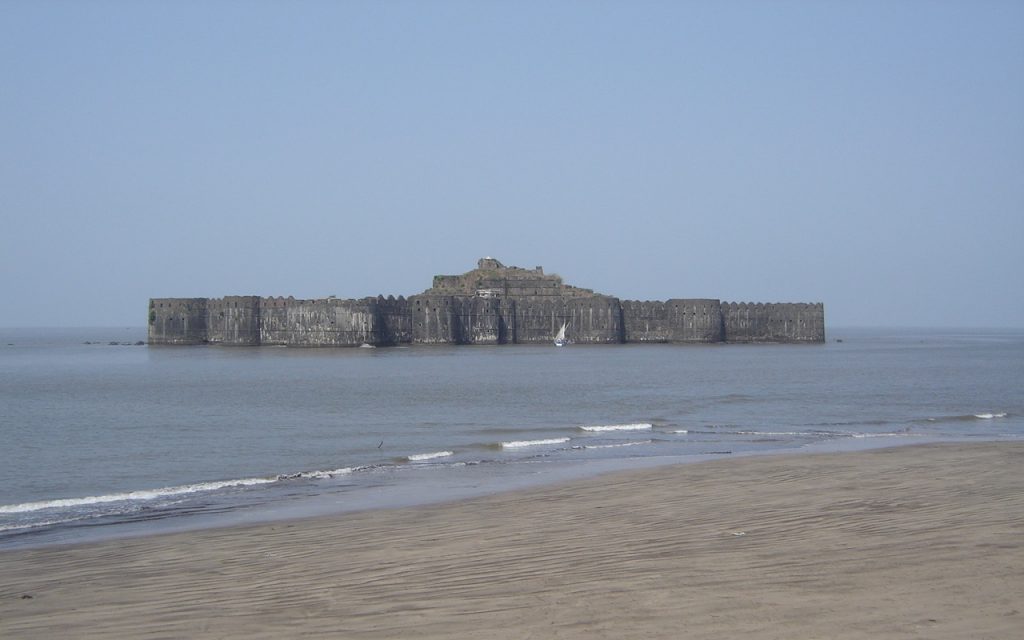 Major Highlights: Murud beach is best known for its water sports. You may enjoy fun rides of jet skiing, banana rides, bumper rides, parasailing, dolphin rides, swimming and so much more at the Murud beach. The beach is also known for its marine diversity. You may see a few tiny creatures swimming along with you during your fun rides!
Tourism activity: Murud beach is one of the major tourist spots in Dapoli. With a number of water sports, the beach is highly crowded and also a lot commercialized. You may find hundreds of people visiting the place during peak seasons.
Places to eat & stay: Beach Resort Igloo House is a 3-star property in the vicinity of Murud beach Dapoli. It is known for its sea-facing and well-decorated igloo rooms, best home service and best seafood.
How to reach: Murud beach is about 12 km from the centre of Dapoli and about 3 km from Karde beach. You can easily reach the place by local travel options like auto-rickshaws and buses.
Other places to visit in Dapoli
There are many other tourist attractions in Dapoli and they are all so much worth a visit. Dapoli is packed with temples, historic monuments, beaches, forts, etc. Following are a few more places to visit, during your holiday to Dapoli:
Kelshi Beach- Kelshi is one more silent beach in Dapoli. Known for its calmness, vegetation and fauna, it has a 3 km long coastline.
Ladghar Beach- Also known as the red pebbled beach of Maharashtra, it is also called Tamastirth. It is said that the beach's surroundings along with the colour of the water turn completely red during a particular time of the year.
Harnai Beach- It is a beach best known for fishing. It is a must-visit for fishing enthusiasts since the marine life is rich here. If you are a sea-food lover, you might want to buy fresh catches from one of the biggest fish markets in Dapoli.
Siddhivinayak Ganpati Mandir- This is an 18th-century temple and is known as one of the most sacred places in Maharashtra.
Keshavraj Temple- Located in the Asud village of Dapoli, the Keshavraj temple is a temple of Lord Vishnu. It is a serene place situated amidst the lush forest.
Dapoli Beach Water Sports
Dapoli tourism is best-known for its adventure, water sports, relaxation and even serenity. You may never have enough of Dapoli in one go, but here are a few best things to do in Dapoli.
Dapoli is a hub of water sports in Maharashtra. It really has a wide variety of water sports at various beaches. Murud beach is best known for its water sports. Following are the details:
| | |
| --- | --- |
| Name of Water Sport | Approximate Cost |
| Parasailing | Rs. 1000- Rs. 1200 |
| Parasailing with sea dip | Rs. 1500 |
| Parasailing with two sea dip | Rs. 1800-Rs. 2000 |
| Banana Boat Ride | Rs. 300- Rs. 500 |
| Bumper Boat Ride | Rs. 300- Rs. 500 |
| Jet skiing | Rs. 500- Rs. 700 |
| Dolphin Watching | Rs. 300- Rs. 500 |
It is important to note that most of the above-mentioned sea sports rides are conducted during day time. It is recommended to visit during the early hours of the day if you wish to watch the dolphins in full action!
Dapoli Beach Camping
Very well known as a coastline hill station, Dapoli offers endless camping opportunities. Dapoli has a wide variety of camping options for individuals and groups. You can expect cosy comfortable stays, campfires, forest treks, forest tours, site-seeing and without a doubt a lot of memories to take home. Dapoli camping has a special forest trek event that includes trekking, tent stay, barbeque, beach games, water safaris etc. Most camping companies include travel and two meals in the package. The camping package without travel costs around Rs. 2000 per person. The package price including travel from Khed railway station is around Rs. 2500- Rs. 3000 per person.
Which is the cleanest beach in Dapoli?
Karde Beach Dapoli is one of the cleanest beaches in Dapoli due to lesser footfall.
What is Dapoli famous for?
Dapoli is famous for its peaceful beaches, water sports, camping activities, historical monuments, temples and authentic Maharashtrian seafood cuisines.
Can we see dolphins at Murud Dapoli beach?
Yes, one can easily spot dolphins at Murud beach, Dapoli. The dolphins usually are seen swimming not too far from the coast.
Conclusion
Dapoli is undoubtedly one of the best tourist destinations in Maharashtra. Beaches near Dapoli are beautiful, exotic, adventurous and serene to make your holiday memorable. Dapoli tourism offers an opportunity to enjoy water sports, camping, authentic seafood cuisines, site seeing and relaxation. So, if you are someone wanting to have a fun-filled yet refreshing beach holiday, Dapoli is the best choice you can make!